You can find the nurse aide training courses located in Dillon, Montana on this page. Completing both the training and competency exams will enable you to be certified in the state and be able to work in care facilities. To learn more about the classes you can call the school and talk with a member of their staff.
Parkview Acres Care and Rehabilitation
200 Oregon Street, Dillon, MT 59725
(406) 683-5105
http://www.parkviewacres.com/
It is not that hard to get your name entered on the NAR. One way of it getting there is if you were able to pass the license exams and meet the other requirements such as passing the criminal background checks. The state does not allow an individual to work if their name is not on the Registry. Facilities are asked to check out the individual by going to https://app.mt.gov/cgi-bin/lookup/licenseLookup.cgi?action=index&occupation=NUR_AIDE.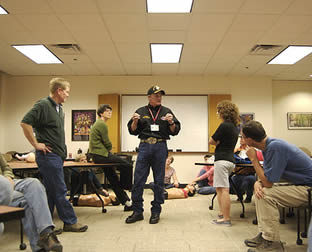 The license exams for this state are composed of two parts, a written exam and a return demonstration of the nursing skills. The applicant will need to pass both exams in order to get his name on the Registry. For the 2nd part, all the applicant has to do is to satisfactorily perform 9 skills.
You can work as a CNA in Montana either by reciprocity or by enrolling at a state-approved training program. You can visit the state's website in order to learn more about their requirements for reciprocity. This is only applicable for those who are already nursing assistant license holders who are registered to an NA Registry of a different state. The applicant must have a good relationship with the state he comes from and an active license status when applying for Interstate Endorsement. You will still need to pass the state and federal criminal background check in the state of Montana and be in good standing your home state in order to gain the reciprocity. You also need to show records of your past employment and a record of good standing in your former state.
Dillon is the county seat of Beaverhead County. According to the census of 2010, their total population had reached up to a total of 4,134 people. They have a population density of 2,300.7/sq mile. The total area of the city is estimated to be around 1.6 sq miles, where all of it is land.
Health care centers that are located in the area include Dillon Medical Clinic, Beaverhead Chiropractic Clinic PC, Hursh Tery PA-C Dillon Medical Clinic, Aware Inc. – Case Management Youth, Barrett Hospital & Healthcare – Home Health Hospice, Beaverhead-Madison Chemical Dependency Facilities, Accident & Industrial Injury Clinic, Western Montana Mental Health, and many more. photo attribution: mistermoss