We've included on this page all the Certified Nurse Aide training schools that can be found within Cody, Wyoming. All the schools listed below are approved by the Wyoming State Board of Nursing and are available for entry at this time.
West Park Hospital LTC
707 Sheridan Avenue
Cody, WY 82414
(307) 578-2415
Fax: (307) 578-2412
Email: kmartin@wphcody.org
NWC Outreach
1501 Stampede Avenue
Cody, WY
Contact Information:
North West College
231 West 6th
Powell, WY 82435
(307) 754-6479
Fax: (307) 754-6175
Email: marnee.crawford@northwestcollege.edu
The state requires all nursing assistants who wish to work in any federal long-term care center in the State of Wyoming must be listed on the state's Nurse Aide Registry and have a current/active CNA certification.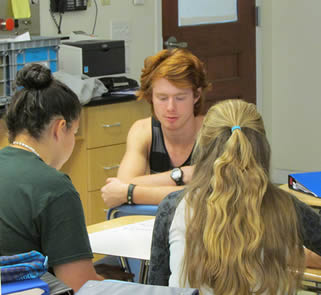 There are three ways to gain entry into the state's Nurse Aide Registry (1) certification through examination, (2) certification by endorsement, and (3) certification by deeming. Each of these methods has different routes with different requirements that must be met. Those who have never been licensed on any state's NAR can only become certified using the first method.
Certification by Examination
The National Nurse Aide Assessment Program exam was developed to test candidates in both knowledge and skills. It consists of a multiple-choice written/oral test and a random practical skills evaluation. Candidates are required to pass both tests to get placed on the Nurse Aide Registry. In addition to passing both tests, all candidates must also undergo criminal background checks with fingerprinting.
One of the most common ways to become eligible to apply for the NNAAP exams is to complete a CNA training course. Courses are required to last at least 105 hours, which should consist of at least 75 hours of classroom lectures and 16 hours of supervised clinical practice. The two parts of the training course are taught at the same time.
Registered nurses and LPNs are allowed to apply for the NNAAP exams if they wish to pursue careers as nursing assistants. They'll need to provide proof of their education, such as a diploma or transcript of records, completed application form and application fee of $60, undergo the background checks, and prove that they have the competencies required to be health care workers.
Certification by Endorsement
A CNA who is currently registered in another state's Nurse Aide Registry and was able to maintain a good standing may apply for placement on the WY-NAR through endorsement or reciprocity. They'll be required to undergo background checks, pay the necessary fees, and show proof of education and training. Applicants are required to contact the state's BON at (307) 777-7601.
Certification by Deeming
Persons who wish to apply for a CNA certification by Deeming are required to:
•    Successfully complete one semester of a state board-approved RN or LPN program within two (2) years before applying;
•    Submit the completed application forms and pay the application fee of $60;
•    Submit the fingerprints and payment of  $60 for the DCI Background Check Fees.
Those who have any questions regarding this process may also call the WSBN with the number provided above.
Now that you are certified, you'll be allowed to work in any long-term care facility within the state for two (2) consecutive years. If you wish to work in Cody, then it wouldn't be a bad idea. This city is the country seat of Park County. It has a total area of 10.43 square miles, which is full of ranges, such as Big Horn, Owl Creek, Bridger, and Absaroka.
As of the last census (2010) the total population of the city had reached up to 9,689 people. Out of that total number, 28.9% are aged within 45 to 65 years old; while another 18.5% of the total population is aged above 65 years old. You can see from those numbers that the demand for health care providers would be high.
You'll be able to choose where you wish to work as certified nursing assistant. Examples of the many health care facilities that are located within Cody include: Hands 2 Help, Wyoming Medical Center, Billings Clinic, Northern Wyoming Surgical Center, Absaroka Senior Living Community, and many more. photo attribution: sterlingcollege