On this page are the training faculties in Chewelah, Washington that are offering certified nurse aide programs. Courses will teach students, health care fundamentals and provide actual hands-on experience and class lectures to become adept at the job.
St. Joseph's Hospital
P.O. Box 197,
Chewelah, WA 99109
(509) 935-5265
(Multiple classes are being offered)
Enrolling in a state-approved training program is the first step in becoming a nurse aide. It is crucial that you learn how to properly take care of the patients before you can work full-time. There are different ways to learn the knowledge and skills that you need to become a skilled health care worker. One of the best ways involves enrolling in a CNA program.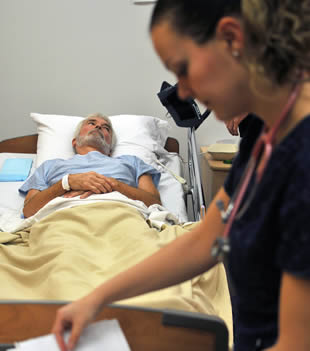 Where can you find a suitable program?
All programs in Washington are approved and monitored by the state's DSHS. They are offered by various institutions and schools across the state. You can find them offered by:
–    Hospitals
–    Nursing homes
–    Assisted living centers
–    Community colleges
–    High schools
–    Rehabilitation clinics
–    Vocational schools
–    Technical colleges
–    Long-term care facilities
–    Private training centers
–    Government organizations
What are the requirements to enroll in a program?
Each program has its own set of requirements. However, there are a lot of similar requirements. Some of the most common requirements include the following:
–    Age: must be at least 16 years old; candidates who are under 18 must have a signed letter of consent from their parents or guardians.
–    Education: a lot of the training programs only accept those who have at least a high school diploma or a GED certificate
–    Criminal Background: Must pass the federal and state background checks. Applicants should not have any records like physical or substance abuse, or theft.
–    Health: must be physically and mentally healthcare enough to take care of patients with different personalities and physical characteristics.
Nurse Aide Training
Approved programs in Washington are required to offer no less than 35 hours of lectures and 50 hours of supervised clinical practice. During the entire training period the students will be handled by a qualified instructor. Students are not allowed to perform any procedure that hasn't been taken up in the classroom nor are they allowed to do any procedure without the knowledge of their instructor. Most of the programs in the state can be completed within 8 to 24 weeks of continuous training.
National Nurse Aide Assessment Program Examination
Taking the NNAAP exam is the final step before you can become a certified nurse aide. According to the law, only certified nurse aides or CNAs are allowed to work full-time in any healthcare facility in Washington. This exam was designed to test the competency of candidates in terms of knowledge and skills. Candidates must pass both the written (or oral) test and the practical skills test to get into the Nurse Aide Registry and apply for a certification afterwards.
This city is a part of Stevens County. The name of the city is a Kalispel word that means "watersnake" or "gartersnake". According to the census of 2010, their total population had reached up to a total of 2,607 people. It has a total area of approximately 2.9 sq miles, where all of it is land. Its population density is estimated to be 899.0/sq mile.
Examples of health care centers that you can find in the area include Longevity Health Clinic, Chesterfield Health Services, Chewelah Community Health Center, Northeast Washington Alliance Counseling Services, Healthy Perceptions Counseling, and Longevity Health Clinic. photo attribution: ufv