The nurse aide programs that are being offered in Picayune, Mississippi as of the moment are shown in detail below. Courses must be authorized by the state registry. During instruction you will learn the basic health care procedures needed on the job.
Covenant Health and Rehabilitation
1620 Read Road, Picayune, MS 39466
(601) 798-1811
http://www.covenantdove.com/facility-details.php?id=46
To become licensed to work in a health care facility as a nurse aide you will need to follow several steps. First being that you enroll in a program that meets the criteria of the state registry and teaches the fundamental skills needed to care for patients properly. Courses must be approved by the state and provide a specific amount of instruction.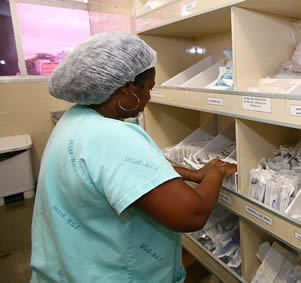 After completing the training you will become eligible to set a testing date for the certification test with the Pearson Vue company. This company is contracted to administer the examination and can be contacted by calling toll free to 1-888-204-6213. Applicants who pass both portions of the exam which are a multiple choice test and a skills test will become certified.
When you apply for the license exams, you will be required to submit a money order that should be cashed to NACES. If you are taking the license exams for the first time, then the total amount that you will need to pay is $101. If you are only taking the written/oral exam then the payment is $32. The skills evaluation exam costs $69. Once the money is received, you will no longer get a refund for any reason.
After sending in your application, you will need to wait for a few days to get your scheduled date for the exams. If you cannot take the exams for any reason during that day, you will need to call the NACES at least 5 days to reschedule. If you are able to do that before the deadline, you can reschedule your exams without any additional costs.
There are certain scenarios where the NACES will accept as a valid reason for not being able to take the exams and will allow a rescheduling. These scenarios include:
1.    Illness of yourself or an immediate family member
2.    Death in the family
3.    A restricting traffic accident.
4.    Weather emergency
5.    Military or jury duty
If you have any questions regarding certification or the current list of requirements required to become certified as a nursing assistant here you can call an associate of the Mississippi State Department of Health at 601-364-1100.
Picayune is considered to be the largest city in Pearl River County. It has a total area of 11.8 square miles, and according to the 2010 census, its total population had reached 10,878 people. This city is only a few miles from New Orleans and Hattiesburg. Picayune is also known as the "Yune". This city was founded back in 1904 and was named by Eliza Jane Poitevent Nicholson, who was the owner and the publisher of the New Orleans Daily Picayune, which in turn was named after the Spanish coin.
Healthcare providers that are currently found in the city area include Lighthouse Healthcare, Pearl River Dialysis, Picayune Eye Clinic, Picayune Rural Health Clinic, Axcess Medical Clinic, Innovative Health Solutions, Spence Medical Research, and Manna Ministries Inc. photo attribution: agecombahia