Those who are searching for nursing assistant training programs in Nowata, Oklahoma can find the latest available schools listed here. Applicants who meet the requirements and are accepted to the program will receive skills practice as well as health care theory instruction to help prepare them for the testing phase of becoming certified to work.
Osage Nursing Home
822 West Osage,
Nowata, OK 74018
(918) 273-2012
Hays House Nursing Home
312 South Mississippi Street,
Nowata, OK 74084
(918) 273-2002
If you are planning to become a CNA in Oklahoma then you should start immediately. The demand for this work is continuously on the rise as more and more people look for help in doing their daily activities. Another reason for the increase in demand is because of the high-pay rate of nurses. Being a nursing assistant is also a great stepping stone if you want to pursue a much higher degree in medicine.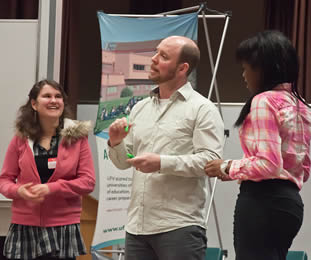 A nurse aide certification is a major requirement to work in Oklahoma. These certifications are only given to the people in the Nurse Aide Registry. These individuals were able to meet the federal and state training and testing requirements.
The first thing to do is to look for a CNA training program to enroll in. Due to the high demand for the profession, you can find these programs in most community colleges, nursing facilities, and even online. Before you enroll, you should make sure that they are approved by the state's Department of Health. When you enroll, you will spend your hours in classroom lectures and practical training in a nursing home.
By completing a state-approved program, you will become eligible to apply for the competency exam, which is conducted by the Headmaster Testing Services. The exams consist of a written/oral knowledge test and a return demonstration on selected nursing skills. If you pass both tests within 3 attempts and within 2 years of completing your training, you will receive your certification.
On average, a nurse aide in Oklahoma can make around $20,000 in a year. The salary of nurse aides is greatly influence by experience and training. That is why many newly certified nurse aides aim to achieve higher certifications such as CMA certification.
A CMA or a certified medication aide is a nurse aide who is trained to give selected medications to the clients. To become one, you will need to complete a CMA training course and take on its competency exam afterwards.
To be accepted in the training course, you must be on the NAR as either a long term care aide or a HHA. You should also maintain a clean record on the registry, avoiding any issues about patient abuse, neglect, or theft. In addition, you must be at least 18 years old, possess either a high school diploma or a GED, and have a minimum of 6 months of working experience as a CNA.
The OACHP CMA training program is a 57.5 hour program. As soon as you complete its classroom and clinical hour requirements, you must pass medications with 100% proficiency to 20 patients. If you fail to do this within 3 attempts, you will not be allowed to take the competency exam and you will officially fail the course. Unlike the other courses, there are no online registrations for the programs.
The CMA competency exam only has a written knowledge test. Like the other competency exams, you will be given three attempts to pass the tests. If you fail after the third attempt, then you must recomplete another course. For more information about how to become a CMA, you can follow this link: http://www.oahcp.org/pdf/CMA%20Cert%202013.pdf.
Nowata is the county seat of Nowata County. It was the Lenape tribesmen who were responsible from giving the name of the town. They originally named it as "nuwita", which meant "welcome" in their language. According to the census of 2010, their total population had reached up to a total of 3,731 people. They have a population density of 1,280.5/sq mile. The total area of the city is estimated to be 3.1 sq miles, where all of it is land.
Examples of health care centers and providers that are found in the city include Jane Phillips Nowata Health Center – Jane Phillips Education Center, Grand Lake Mental Health Center Inc., Nowata Family Health Center, Gibson Family Medicine, Caughell David MD, and many more. photo attribution: ufv