The nurse aide schools located in Keystone Heights, Florida that are listed on this page are all the certified nursing assistant classes that you can enroll in as of the moment. For more information about enrolling in training, please call the number below.
Keystone Heights High School CNA Program
900 Southwest Orchard Avenue,
Keystone Heights, Florida 32656
(352) 473-1489
The nursing assistants of this state are required to have a certification if they wish to practice their profession. Having one that was issued from a different state will not make a big difference since Florida allows reciprocity for other states. The applicant must have an active status in Nurse Aide Registry and is required to submit different document like a copy of their certification, the results of their competency exams, and the results for the federal and the state background checks. You can get more information about certification requirements by calling (850) 245-4125 the number for the state registry.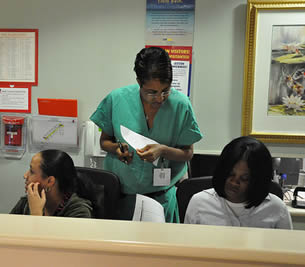 To get a license in this Florida, you have to pass the CNA exams that are being conducted by Prometric. Their examinations are composed of a written and a skills demonstration. Replacing the written exams with an oral examination can be done by submitting a letter of request during the application period. In order to get your license, you have to pass all the tests including the background checks for criminal records. Having records of thefts and offenses involving drugs and violence may result in the rejection of your application. The state does not allow partial passing of any tests. Failing in any exam means that you will lose all payments done during your application. This rule also extends to the passing of the background checks.
This is a town that is a part of Clay County. It is situated in the southwestern portion of the county. It was named after the state of Pennsylvania, the "Keystone State". According to the census of 2010, their total population was around 1,350 people. It has a total area of approximately 4.6 sq miles, where almost all of it is land. Its population density is 293.3/sq mile.
Examples of health care centers and providers that you can find serving the town includes Starling Tracie DMD PA, Professional Medical Transcription Services Inc., Keystone Dental Care, Starling Family Denistry, United Therapy Group, Shockley Todd DMD PA, Keystone Chiropractic, Alcohol & Drug Testing Services LLC, Lupus Foundation of American Inc Grtr Fla Chptr, Therapy Through Massage, and many more. photo attribution: medilldc