All the nurse aide school that are conducting classes in Diamondhead, Mississippi are found in detail on this page. To learn more about the steps required and qualifications to enroll in this health care training, please call the facility using the phone number listed below.
Corporate Management, Inc.
5427 Gex Road,
Diamondhead, MS 39525
(228) 255-4832
According to the law, all individuals who want to become a nursing assistant are required to take and pass the NNAAP examinations which are composed of a written and a skills evaluation of the basic nursing skills. Each state has its own authorized conductor of the exams. For Mississippi, that conductor is Pearson Vue.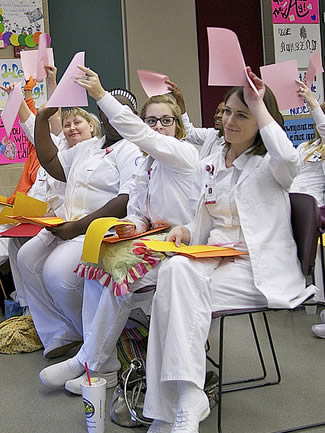 Before one is able to take the exams, one has to become eligible to apply for it first by being able to complete a 130-hour state-approved training class. To complete the required number of hours, the student must be present in all its training sessions. The training will be divided in to lectures and clinical exposure. The program lasts up to 6 weeks. Only those who were able to complete a training program that has met the federal and state's standards will be allowed to apply.
After completing the training, the graduate can then ask for a copy of the application form from the class or directly ask for it from the NACES by contacting them at (800) 579-3321. Along with the application forms, the applicant must also send in a copy of his training certificate and $101 for the testing fees. All documents must be sent no less than 12 business days from the date of the exams.
The city of Diamondhead can be found in the southeastern portion of Hancock County. Diamondhead just recently became a city in February of 2012, from a census-designated place. It is still a part of the Gulport-Biloxi Mississippi Metropolitan Statistical Area. The name of this city was derived from Diamond Head, Hawaii. You can find throughout the area the different Hawaiian influences such as names, community centers, and homes.  As of the 2010 census, their total population was estimated to be 8,425. It has a total area of 11.7 square miles, where only 0.4 square miles of it is water. photo attribution: germannacommunitycollege