In the town of Sequim, Washington you can locate the following nurse aide training facilities. These programs grant students the ability to test for their certifications. Instruction offers hands-on practice using medical skills as well as lessons in health care theory and lab work.
Olympic Care and Rehabilitation
1000 5th Avenue South,
Sequim, WA 98382
(360) 582-3900
If you want to become a nursing assistant-certified in the State of Washington, then you'll have to complete a state-approved training program and pass the certification exam. These requirements will help the Nursing Home Reform Act to meet its goal of providing better quality care to patients in nursing homes, assisted living centers, hospitals, and other nursing facilities.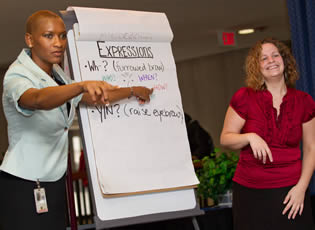 Nursing Assistant training in Washington consists of at least 35 hours of lectures and 50 hours of supervised clinical practice. Both theory and practical training are done at the same time. During the entire training period, the students will be under the care of a qualified Instructor.
Examples of the concepts and skills that are taught in a program include, but are not limited to the following:
–    Basic Nursing Procedures
–    Personal Care
–    Mental Health
–    Promoting the patients' independence and respecting their rights
–    Therapeutic Communication Skills
–    Safety and Emergency Care
–    Infection Control
–    Roles and Responsibilities of An NAC
After you complete your training, the next step is to challenge the certification exam. This exam was created to test the competency of every aspiring nursing assistant candidate in Washington. It consists of a multiple-choice knowledge test and a skills evaluation exam. Candidates must pass both tests in order to get certified.
Want to climb up the CNA career ladder?
You can increase your chances of a raise as well as a promotion if you add more to your healthcare knowledge and skills. If you want to be able to provide medications to patients, then you might want to think about getting a Medication Aide Certification. This certification goes well with an NAC Certification.
Medication aides also work under the supervision of registered nurses, and also require a proper certification before one can work as one. Luckily, their certification process is very similar to the NAC certification process. You first need to complete a state-approved training program and then challenge their certification exam. For more information about how to become a CMA or other healthcare providers, please follow this link: http://www.doh.wa.gov/LicensesPermitsandCertificates/ProfessionsNewReneworUpdate/HealthcareProfessionalCredentialingRequirement.aspx.
This city is situated in Clallam County. You can find it along the Dungeness River. It is also near the base of Olympic Mountain. This city is also known as the Sunny Sequim. According to the census of 2010, their total population was around 6,606 people. It has a total area of approximately 5.3 sq miles, where all of it is land. Its population density is estimated to be around 1,246.4/sq mile.
Health care facilities that you can find serving the city include Primary Care Sequim & Walk-In Clinic, Gauthun Chiropractic, Peninsula Community Mental Health Center, Care Net Of Clallam County, Inspire Medical Clinic, Sequim Medical Plaza, Jamestown Family Health Clinic, Dungeness Valley Health & Wellness Clinic, and many more. photo attribution: usdol