The nurse aide programs one can join in Fishersville, Virginia that are state authorized are listed on this page. If you have any questions about these certified nursing assistant classes, please call the number for one of the medical training facilities provided for you below.
Augusta Nursing and Rehabilitation Center
83 Crossroads Lane
Fishersville, Virginia 22939
(540)885-8424
Valley Vocational Technical Center
49 Hornet Road
Fishersville, VA 22939
(540) 245-5002
Woodrow Wilson Rehabilitation Center Training Department
P.O. Box 1500
Fishersville, Virginia 22939
(540) 332-7000 or (800) 345-9972
A CNA certification is a main requirement to work as a nurse aide in Vermont. Although there might be several routes that you can take to become a CNA, there are only two general ways to get a certification: you can either apply for endorsement or take the NNAAP exam.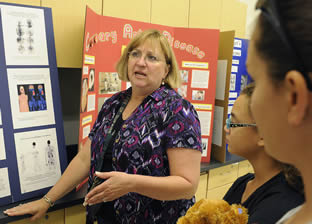 Taking the National Nurse Aide Assessment Program Exam
This exam consists of a written/oral test and a skills evaluation exam. Both the tests are taken on the same date at approved training centers. Candidates are required to pass both tests to get certified. If a candidate fails, he or she can reapply and retake the exam he or she failed.
This exam is only available to individuals who received the proper training from a state-approved training course. You can apply for the exam if you meet any of the following routes:
Applying as a New Nurse Aide
These are the individuals who completed a 75-hour CNA program that is approved by the Virginia Board of Nursing. This is also the route that re-testers must use when they wish to try the NNAAP exam again. Programs consist of lectures and supervised clinical practice. Most programs in the state can be completed within 4 months.
Applying as a Nursing Student or Graduate
Nursing students who successfully completed one semester of nursing school or who took up the Fundamentals of Nursing are allowed to immediately apply for the exam. Nursing graduates who completed their education within the last 2 years are also allowed to apply.
Applying as a Virginia CNA with an Expired or Lapsed Certification
Nurse aide certifications must be renewed every two years. Holders must meet the required number of working hours to qualify for renewal. If a holder lets his certification expire he can reactivate it by taking the NNAAP exam within a year after the certification's expiration.
Certification through Endorsement
Certified nurse aides from other states may no longer require to test to work in Virginia. All they have to do is to apply for reciprocity to transfer their certification there. The state requires that applicants must have a valid certification and a clean record. They must not have any accounts of patient abuse, neglect, or misappropriation of their properties. The duration of the process will greatly depend on how fast the applicant's state is able to produce an authenticity of the applicant's certification.
This is a census-designated place that is a part of Augusta County. It is also a part of the Staunton–Waynesboro Micropolitan Statistical Area. According to the latest census, their total population had reached up to 4,998 residents. It has a total area of approximately 13.1 sq miles and has a population density of 380.6/sq mile.
Health care centers and providers that you can find within the area include Augusta Health Home Health Services, Augusta Psychological Associates, Hearing Health Care of Virginia, ABC Children's Health Center, Comprehensive Behavioral Health, Gambro Healthcare, Valley Hope Counseling Center, and Valley Community Services Board-Staunton. photo attribution: codnewsroom