The nurse aide programs you can locate in Bucksport, Maine are listed here. If you know of other listings that are open for enrollment in the area, and registry recommended, please contact us and we will add them to the page.
RSU 25 Adult & Community Education
66 Bridge Street, P.O. Box 1341,
Bucksport, ME 04416
(207) 469-2129
http://www.rsu25adulted.com/
Being a nursing assistant in the state of Maine can be a way to get started with a health care occupation and receive valuable experience you can use later as you advance in the nursing field or other medical profession. Your first step in becoming a nursing assistant is to find a CNA training program to enroll in. When you are looking for one, you should keep in mind to enroll only in a program that is approved by the state. These programs are found almost all over the state because of its high demand in healthcare settings. These programs are required to offer a total of 180 hours. These hours will be divided into lectures and clinical training.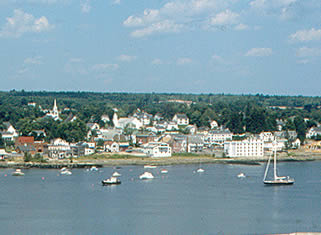 Once you pass the course, you may work in a nursing facility, like a long-term care home, for up to four months without a license or certification. However, once you complete your training you will become eligible to apply for the license exams and will need to do so within 24 months or need to retake your instruction. The license exams for this state are composed of a written and a skills demonstration exam. In order for you to get your name entered on Registry, you have to pass all the tests. To pass the written exams, you have to get a total of 70%. As for the second part, you will be asked to perform 10 procedures where you must perform at least 7 of them satisfactorily.
After completing a state-approved program, the license exams, and meeting all requirements you will become certified and listed with active status in the state registry. Once licensed you are  allowed to work in a healthcare facility as a nursing assistant for up to 24 months before you need to renew. Once your name is on Registry, you will need to maintain that status if you wish to continue working as a nurse aide. Always ensure your address is up to date as 60 days before the expiration of your listing, the registry will send you a notification to renew. Contact the Licensing and Regulatory Services by calling 1-800-791-4080 for further information.
This town is a part of Hancock County. It can be seen across the Penobscot River. The earliest settlers in the area were the Red Paint People. They were believed to live there about 5,000 years ago. Nowadays, according to the last cenus, their total population was around 4,908 people. Bucksport has a total area of 56.5 sq miles and has a population density of 95.2/sq mile.
Health care providers that are currently located in the town area include Liebermann Karl DO, Bucksport Regional Health Center, Blue Hill Memorial Hospital, Bucksport Family Medicine, Lieberman Beth-Ann DO, and a few more. photo attribution: roger4336