We've listed on this page all the Certified Nurse Aide/Nursing Assistant courses in Dubois, Wyoming that are currently accepting new students for enrollment. All the programs listed here are state board-certified. You can find out more about their training programs by using the contact information that is provided.
Dubois High School
P.O. Box 327
Dubois, WY
Contact Information:
Fremont County BOCES
320 West Main St.,
3rd Floor
Riverton, WY 82501
Phone: (307) 856-2028
Fax: (307) 856-4058
Email: kbensonboces@gmail.com
The OBRA of '87 requires all nurse aides who wish to work in a federal nursing facility should be listed on a state's Nurse Aide Registry and maintain an active CNA certification. One can get certified by passing the competency exams after completing a state-approved training course.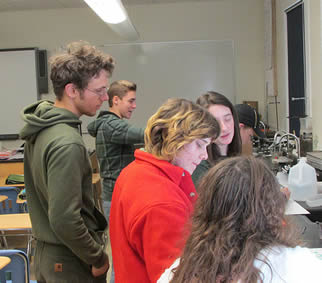 CNA training programs in Wyoming are required to offer no less than 75 hours of lectures and 16 hours of supervised clinical practice. In addition, the training program must last up to 105 hours in total. Both lectures and supervised clinical practice are taught at the same time. Depending on which program you choose, it can take you around 3 to 4 months to complete your training.
The Board of Nursing is in charge of approving and monitoring all training facilities and schools that want to work nurse aide training. You may find suitable programs being offered by any of the following:
•    High Schools
•    Community Colleges
•    Hospitals
•    Nursing Homes
•    Assisted Living Centers
•    Rehabilitation Clinics
•    Private Training Facilities
The state will allow a person to work as a nurse aide without a certification for up to 120 days or 4 months. During that time, that person must immediately enroll and pass the competency exams to continue working as a nurse aide.
The CNA competency exams are handled by the American Red Cross with the help of Pearson VUE. The exams are composed of two parts: a written (or oral) exam and a clinical skills test. Candidates are required to pass both tests within five (5) attempts, or within one year, whichever comes first, to get placed on the Nurse Aide Registry and become certified.
All application forms and requirements (including payments) must be sent to:
American Red Cross/Wyoming NNAAP
1804 North 6th Street,
Harrisburg, PA 17102
Payment Fees:
•    DCI Background Check Fees – $60
•    Application Fee for the NAR – $60
•    Exam Testing Fee- $98
If you manage to pass both exams, then your name will be placed on the Nurse Aide Registry; and you will be allowed to work in any federally certified long-term care facility so long as your name is on the NAR. Employers will always check each of their applicant's certification on the NAR prior to hiring. You can check your status on the NAR by going to: https://cnaregistry.health.wyo.gov/
Career advancements are plenty when it comes to those who are working in healthcare. You can increase the chances of a promotion by training to become a CNA II. A Level II certification is given additional responsibilities and is allowed to perform nursing procedures that a nurse aide with a basic certification cannot. To become a Level II, one must undergo advanced training and take another competency exam.
Admission Requirements into a CNA II program:
•    Be at least 18 years old
•    Finish high school and obtain a diploma, or have a GED
•    Maintain a clean record as a certified nurse aide
•    Complete at least one thousand five hundred (1500) hours of work as a paid nurse aide
•    Work in an area where the opportunities to complete the required competency skills tests exists
You can find out more about how to become a CNA II in the State of Wyoming by following this link: https://nursing-online.state.wy.us/Resources/CNA%20II%20Program%20Brochure.pdf.
Dubois is a nice town to start working as a certified nurse aide. The town is located in Fremont County and is surrounded by the Absaroka and Wind River Mountains. According to the 2012 census, their total population was estimated to be around 1000 people. Originally known as Never Sweat due to the warm and dry winds; this town as a total area of 3.43 square miles.
If you find that the town is too small for you, you can always work in any neighboring town or city. Your placement on the Nurse Aide Registry will allow you to practice as a nurse aide in any federal long-term care center within the state. You can also try to work in other states if they offer or accept Out-of-State Nursing Assistant Endorsement. You can find out by contacting the state's Board of Nursing or Department of Health. photo attribution: sterlingcollege