Those who desire to train to become a nurse aide Coupeville, Washington, can find eligible programs listed here. By enrolling in a course students will learn the fundamentals of working in a medical facility, how to handle patients and conduct the duties of the job.
Oak Harbor High School Health Center
P.O. Box 1140,
Coupeville, WA 98239
(360) 279-5400
The increase of the elderly in the population has caused an increase in the demand for health care providers, especially for nursing assistants. Nursing assistants are entry-level professionals who work under the watchful eyes of registered nurses and/or licensed practical nurses (LPNs). They are an important member of the health care team because they assist and ensure the continuity of nursing care to the patients.
There are two levels of nursing assistants in Washington:
–    Nursing assistant-registered
–    Nursing assistant-certified
Nursing Assistant-Registered
These are persons who work as nursing assistants in a nursing facility, even without a certification from the DOH. These individuals were hired by nursing facilities because they had shown great competence in providing nursing services. Despite their skills, they are still required to complete proper training and pass the certification exam. They are given a maximum of 4 months to do this. If they fail to get certified within 4 months from their first day of work, then they'll have to stop working until they can get certified.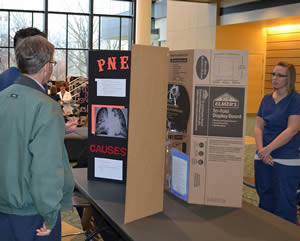 Nursing Assistant-Certified
A nursing assistant-certified or NAC is a person who was able to meet the federal and state's training and testing requirements. You don't need to become a nursing assistant-registered in order to become certified.
Becoming a Nursing Assistant-Certified (Same as CNA title)
The first thing that you'll need to do to become an NAC is to enroll in a state-approved training program. Nursing Assistant Programs or NAPs are offered throughout the state by various institutions and schools. Nursing assistant curriculum consists of 35 hours of theory and 50 hours of practical training. Both theory and practical training are taught at the same time.
After you complete your training, the next step is to apply for the state's certification exam. This exam consists of a multiple-choice knowledge test and a random skills evaluation. Candidates must pass both tests to gain entry into the Nurse Aide Registry. Once their names are on the Registry, they'll be allowed to apply for a Nursing Assistant Certificate that's issued by the DOH.
Maintaining Your Nursing Assistant Certifications
Names on the Nurse Aide Registry remain there for 2 years. However, unlike other states, renewing your status on the NAR doesn't necessarily mean renewing your certification. Nursing Assistant Certifications in Washington must be renewed every year. Holders are required to work for at least 8 hours as a paid nursing assistant to qualify for renewal.
This is a town that is in Island County. It is also the seat of government there. It was founded back in 1852 by Captain Thomas Coupe. This town is considered to be the 2nd oldest town in the entire state of Washington. According to the census of 2010, their total population was at 1,831 people. It has a total area of 1.3 sq miles and has a population density of 1,346.7/sq mile.
The Whidbey General Hospital is one of the biggest employers in the town. Other health care centers that you can find within the city include Koo Kenny P MD FACS, Tucker Elizabet M DO Facos, Island Women's Healthcare, Hearing Health Services, Robinson Catherine A Certified Physicians, and many more. photo attribution: codnewsroom