If you are looking for nurse aide instruction in Lacey, Washington, you can find the state approved classes on this page. Programs train students to properly care for patients while under the supervision of a nurse instructor. To learn more about the qualification required to join, contact a school administrator.
Roo-Lan Healthcare Center
1505 Carpenter Road SE,
Lacey, WA 98503
(360) 491-1765
A CNA certification is needed in order to work as a nursing aide in Washington. Employers are not only instructed to ask for a certification from each applicant, but they are also required to check if they applicant's name can be found on the Nurse Aide Registry.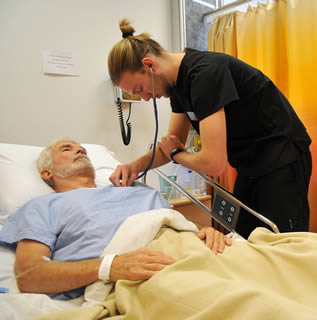 The Nurse Aide Registry is a master list of all persons who are allowed to work as nursing aides in the state. Only those who got into the Registry through testing are allowed to apply for a certification that's issued by the Washington State Department of Health. Employers can either call the NAR at (360) 236-4700 to verify or follow this link: http://www.doh.wa.gov/LicensesPermitsandCertificates/ProviderCredentialSearch.aspx
The exam that you need to pass to get into the NAR is call the National Nurse Aide Assessment Program Examination or the NNAAP exam. It is a two part exam that consists of a written/oral test and a skills evaluation exam. Both tests must be passed to get into the NAR. One can only take the NNAAP if you were able to complete a state-approved training course.
A great way to establish eligibility for the exam as well as learn how to become a competent health care employee is to enroll in a Nursing Aide Training Program (NATP). These programs can be found throughout the state offered by a variety of training institutions and schools. They are approved and monitored constantly by the Department of Social and Health Services.
Approved programs are required to offer no less than 35 hours of training and 50 hours of supervised clinical practice. Programs are also required to be headed by a registered nurse with some background experience in handling nursing aide students. Examples of the topics that are taught in every program include infection control, respecting the patients' rights, promoting the patients' independence, communication skills, safety precautions, emergency procedures, roles and responsibilities, basic nursing procedures, and personal care.
Other means of qualifying for the NNAAP exam include:
•     Completing at least one semester of nursing school
•    Get military training as either a medic or a corpsman
•    Enroll in an out-of-state healthcare training course
•    Complete an Alternative "Bridge" Program in Washington
Once you're given a certification you'll be allowed to work as a full-time nursing aide in any healthcare setting for a one year. If you want to continue working, you'll need to renew your certification at least 4 to 6 weeks before your birthday.  You'll need to work, for compensation, as a nursing aide for at least 8 hours to qualify for renewal. If you let your certification expire you can reactivate it by taking the competency exam within one year.
This city is a part of Thurston County. It was originally named as Woodland after Isaac and Catherine Wood, who said to came in 1853. According to the latest census taken there, their total population was at 42,393 people. It has a total area of 16.5 sq miles, and has a population density of 2,639.9/sq mile.
Examples of health care facilities that you can avail within the city include Steck Medical Center, South Sound Medicine, Steck Medical Center, Pacific Walk-In Urgent Care Clinic, Urgent Care of Olympia, Express Urgent Care, Lacey Medical Clinic, and many more. photo attribution: ufv