Potential nurse aide students can locate the available classes in Poteau, Oklahoma on this page. If you know of other programs that are available at this time and meet state registry standards, you can contact us and we will add them to the page.
Kiamichi Technology
1509 South McKenna Street,
Poteau, OK 74953
(918) 647-4525
If you want to work in the field of health and love to help people, then you should try to consider becoming a CNA. Certified nurse aides are individuals who work, for compensation, to provide nursing and nursing-related care and services to people who are living in a long term care facility. There are also some nursing assistants who are trained to work in the client's own residence.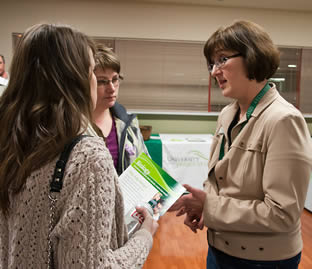 To be a CNA, it is important that you receive the proper training. This can be achieved by enrolling in a nursing assistant training course. These courses are offered by colleges, nursing homes and hospitals, private institutions, and even online. To be enrolled in one, you must be physically and mentally capable, be at least 18 years old, and possess a high school diploma or a GED. Your training will be divided into theories and practical training in an actual clinical setting. Many programs can be completed in only a few weeks. When you are choosing a course to enroll in, you should make sure that the training facility is certified by the Department of Health.
By completing an approved course, you will become eligible to apply for competency exam. Nursing student and graduates are also allowed to take the exam without any further training. When applying, you will be required to provide certain documents such as your immunization records, proof of your completion, your negative TB test, and your results of the national criminal background check.
The competency exam will test you in both knowledge and skill. To get your CNA card, you must pass all the tests. A valid CNA card will be a requirement when seeking employment. Employers are also required to check the certification of their applicants. They may do this by going online (http://www.ok.gov/health/pub/wrapper/naverify.html) and simply enter the applicant's full name or certification number.
Your certification as a CNA will only last for 24 months. Some of the advanced certification may have a varying expiration. For example, CMA certifications are only valid for 12 months and must be renewed before its expiration. Long term care aides and HHA must work for at least 8 hours every 2 years to be eligible for renewal. In addition, all CNAs in Oklahoma who wish to renew their certification must also fill out an affidavit of legal residence. All the necessary form can be downloaded at http://www.ok.gov/health/Protective_Health/Health_Resources_Development_Service/Nurse_Aide_and_Nontechnical_Services_Worker_Registry/Nurse_Aide_Registry_Applications_and_Forms/index.html#NATCEPApps.
This city is the county seat of Le Flore County. It is also a part of the Fort Smith, Arkansas-Oklahoma Metropolitan Statistical Area. As of the 2010 census, their total population had reached up to a total of 8,520 people. It has a population density of 270/sq mile. The total area off this city is estimated to be around 31.7 sq miles, where 3.0 square miles of it is water.
The health care providers whose services that you can avail easily include Choctaw Nation Health Services, Leflore County Medical Clinic, Sansbois Health Services, The Oaks Behavioral Health Centers, Eastern Oklahoma Home Health, Dewey Medical Center, Housecalls Home Health, The Oaks Healthcare Center, C & H Health Care, Country Style Health Care, Country Style Health Care, and Rubin White Choctaw Nation Indian Health Clinic. photo attribution: ufv