The college nurse aide classes in Pittsfield, Illinois that are listed on this page provide the certification training that is open as of the making of this post. For more information about getting your registry certification, program curriculum, or instruction schedules, please call the number below.
John Wood Community College
1308 West Washington, Pittsfield, IL 62363
(217) 285-5319
http://www.jwcc.edu/
If you are planning on becoming a nursing assistant, being one in the state of Illinois is one of best places to do so. There is a very high demand for nursing assistants here so there is guarantee that you will be able to find work when you become a full CNA. Before you can become one, there are plenty of different requirements that you must comply with first. One of the most important prerequisites that you must be able to do is finish a training program. Receiving proper education and training will make you eligible to apply for the license exams after you complete your training.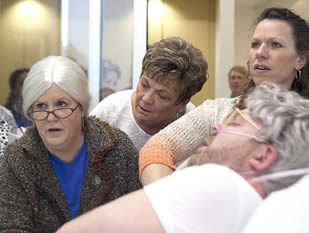 These training programs are offered by different institutions like colleges, and healthcare facilities. To ensure that you will be able to apply for the exams, you should only enroll in a program that is approved by the state. These classes need to meet Illinois state requirements and provide forty hours of hands on instruction in health care related skills. Once you have completed a program you can apply to take the nursing assistant exam from the state of Illinois.
The CNA exams are composed of two parts, a written and a skills exam. In order for you to be able to get your name entered in the state's Nurse Aide Registry, you have to pass all the exams. If you fail, you will have two more chances to pass it. If you fail after the third attempt, you are required to undergo retraining. For more information, you can follow this link: http://www.idph.state.il.us/nar/cnafacts.htm.You can also call the registry at 217-785-5133 to get detailed response and help for any queries you may have.
This city is the county seat of Pike County. The name of the city was taken from  Pittsfield, Massachusetts. The city claims to be the Pork Capital" of the Midwest, due to the long history of pork production. According to the last census, their total population was around 4,211 people. It has a total area of approximately 3.6 sq miles, where all of it is land. Its last known population density is estimated to be around 1,178.2 / sq mile.
Examples of health care centers whose services you can find in the city include De Witt Nathan Certified Physicians, Illini Health Services, Illini Community Hospital Rural Health Clinic, Walker Daniel DO, Illini Community Health Care, Mental Health Centers of Western Illinois, Quincy Medical Group, and many more. photo attribution: codnewsroom