All of the training classes for nurses aides that we could find in Logansport, Indiana are listed in detail on this page. If you know of  any other state-approved listings for CNA certification instruction in the city, please send them to us so we can add them here.
Century Career Center
2500 Hopper Street,
Logansport, IN 46947
(574) 722-3811
http://ccc.lcsc.k12.in.us/pages/Century_Career_Center
Chase Center
2 Chase Park,
Logansport, IN 46947
(574) 753-4137
Miller's Merry Manor
200 26th Street,
Logansport, IN 46947
(574) 722-4006
http://www.millersmerrymanor.com/logansport-nursing
There are a number of ways for you to become a nursing assistant in the state of Indiana. One of the easiest methods is to get your name entered in the state's Nurse Aide Registry. To do so, you will need to pass the license exams and be placed on the online registry database.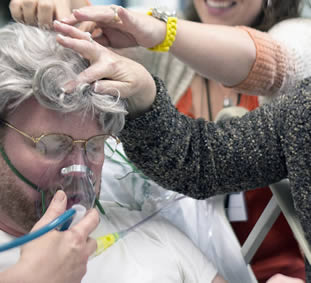 Before you can take the exams, you will need to be able comply with the different requirements. Among them, the most important prerequisites are being able to pass a state-certified training course and passing the federal and state background checks. If you are not able to comply with these two, you will not be allowed to proceed. You should choose a training class that teaches at least 75 hours of first-hand nurse aide duties in a medical setting and 30 hours of classroom instruction. Make sure your classes are a state-approved nurse aide training program in order to qualify to take the exams.
The nurse aide license exams for this state are handled by the Ivy Tech Community College. Their exams are composed of a written and a skills demonstration exam. There will also be occasions where the first part of the exams is an oral examination instead of a written one. To get your name entered, you will need to pass the two parts. For more information about the exams, you can call (317) 917-5948. If you are a CNA license holder from a different state, you may also work here by applying for reciprocity. When you apply, you should make sure that your license is still active or valid. If your state no longer issues any licenses/certifications, your name must be in the state's registry. All those who are applying for reciprocity are also required to pass the background checks.
Logansport is the county seat of Cass County. It is situated on the northern part of the state. It is located where the Wabash and Eel Rivers meet together. You can also find this city a few miles east from Lafayette. First settled in 1826, this city was named after James Renick-Logan, who was a captain during the War of 1812. According to the last census, their total population was around 18,396 people. It has a population density of 2,100/sq mile. Logansport has a total area of approximately 8.97 sq miles, where only 0.22 square miles of it is water.
The Memorial Hospital and Logansport State Hospital are two of the largest employers in the city. They are also two of the main hospitals that are serving this city. Other health care centers that you can find there include Four County Counseling Center, Healthy Companies of Memorial Hospital, Eye Physicians Inc., Logansport Clinic for Women Inc., Dexter Health Services, Trilogy Health Services, Expressmed Clinic, and many more. photo attribution: codnewsroom