The classes in Bedford, Virginia that instruct nurse aides how to meet the requirements to become certified to work in health care are shown here. While enrolled students will learn to care for patients and the proper techniques and procedures used on the job.
Bedford Science and Technology Center
600 Edmund Street
Bedford, VA 24523
(540) 586-3933
(Multiple classes are being offered)
The Nursing Home Reform Act aims to provide patients with better quality care.  This is why all aspiring nurse aides are now required to complete a training program and pass the National Nurse Aide Assessment Program Exam. Each state has its own specific requirements to become a nursing assistant, but they generally involve those two.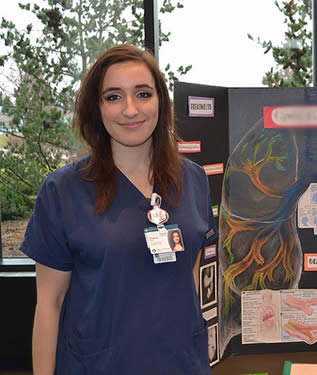 One of the most common ways of getting the training that you need is to enroll in a state-certified CNA program. When you are looking for a program to enroll in, just make sure to find one that's approved by the Virginia Board of Nursing. Completing a program will help guarantee that you'll be allowed to take the NNAAP exam afterwards.
Approved training programs consist of at least 75 hours of lectures and supervised clinical practice. Students are placed under the care of a licensed nurse with background experiences in training nurse aides. During the training period, the students are not allowed to perform any procedure without the knowledge of their instructor.
As soon as you are through with your training, you'll be given an application packet for the NNAAP exam. The application forms will include instructions on what to do with them and where to send them. Make sure that your forms and all other requirements are complete before sending them. Incomplete applications will not be processed by the NACES.
Taking the NNAAP exam is the final step in becoming a nurse aide. If you pass both its knowledge test and clinical skills tests, then you'll be given a CNA certification that will prove your competence as a nurse aide. You can show the certification when you go looking for a job.
The names of all certified nurse aides in Virginia are listed in the Nurse Aide Registry. Employers will always check the registry before hiring any applicants. If you want to check your own status as a certified nurse aide, you can call the BON at (804) 367-4569 or visit www.dhp.virginia.gov.
This is an independent city and the county seat of Beford County. It is a major city of the Lynchburg Metropolitan Statistical Area. According to the latest census, their total population was around 6,222 people. It has a total area of about 6.9 sq miles, where all of it is land. It has a population density of 914.5/sq mile.
The Bedford Memorial Hospital is considered to be the top employer in the city. Other health care facilities that you can find in the city include Bedford Christian Free Clinic Medical, Mantooth Janie LCSW, Carilion, Gentiva Health Services, and Heritage Health Care. photo attribution: codnewsroom