The certified nurse aide training programs (NATPs) that are located in Florence, Kentucky can be found in detail on this page. If you want to sign up or have any questions about classes needed to receive certification, just call the faculty number listed below.
St. Elizabeth Florence
4900 Houston Road
Florence, KY 41042
(859) 212-5200
Beckfield College
16 Spiral Drive
Florence, KY 41042
(859) 371-9393
The increased number of elderly in the population has caused a shortage of health care providers, especially nursing assistants. If you were thinking about starting a career in this field, then becoming a certified nursing assistant is the perfect way to do so.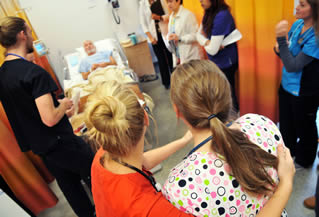 The state requires aspiring nurse assistants to receive proper training before becoming a full-time nursing assistant. The best way to learn how to become a well-trained nursing assistant is to enroll in an NATP that's approved by the state. You may find suitable programs offered by colleges, hospitals, nursing homes, government organizations, private training institutions, and vocational and technical colleges.
Approved training curriculum in Kentucky consists of a minimum of 75 hours of classroom and laboratory instructions and 16 hours of supervised clinical practice. Students, while in the clinical area, are not allowed to perform any procedures that haven't been taken up in the classroom. Students are divided into groups of 15 members and are placed under the supervision of a CNA instructor, to ensure maximum learning potential.
Although completing an NATP might be the most common way of learning to become a nursing assistant; it isn't the only route you can take. You can still become a nursing assistant by learning the Fundamentals of Nursing as a nursing student or graduate. They are allowed to directly apply for the certification exam by providing proof of their education and training.
The certification exam is the challenge that you need to surpass before you can become a CNA. According to the OBRA of '97, only certified nursing assistants are allowed to work full-time in a federal (Medicaid/Medicare) nursing facility. You'll only have one year after completing your training to get certified.
The certification exam is divided into two parts, which consists of a multiple-choice written exam and a practical skills demonstration. Candidates who have trouble reading can request for the oral version of the written exam. Each candidate is given 3 attempts to pass both tests in order to get into the NAR. If a candidate fails to pass within the number of attempts, or within one year after training, then the candidate will have to undergo retraining.
If your area doesn't have any approved training programs, then you should try to think about training in Florence. The city of Florence is a 3rd-class city located in Boone Country. It was originally known as Crossroads because of the several converging roads of Burlington and Union. Florence was established back in 1830, and has not a total population of around 30,000, as of the census of 2010.
If you finish your training in Florence, and come to love the city, you won't have any problems finding work as a CNA. Not only are these workers highly in demand, but there are also a number of healthcare facilities you can consider working in. Examples of such facilities include the Interim Health Care; Tri-State Health Care; Compass Health Care; St. Elizabeth Health Care; Amedisys Home Health Care; Health Point Family Care, and many more. photo attribution: ufv