The nursing assistant training in North Las Vegas, Nevada that are approved by the state Board of Nursing are shown to you in detail on this page. To get additional details about the qualifications needed to enroll,  schedule of classes, tuition rates, and the requirements of the certification exam, please call the number provided on this page.
Desert Rose Adult High School and Career Center
444 W. Brooks Ave.
North Las Vegas, NV 89030
(702) 799-6240
http://www.ccsd.net/
(also accepts adult learners)
If you want to work as a nursing assistant, you will need to comply with both the state and the federal's requirements. As a nursing assistants in this state you will need to get your name into the state's Nurse Aide Registry. One way of doing so, is to pass the license exams.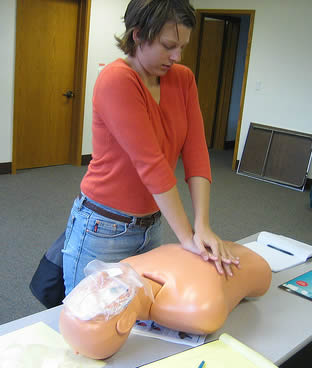 Before you are allowed to challenge the exams, you will need to enroll first in a state approved training program. These programs take from 8 to 13 weeks to complete. Your training will be composed of lectures on the Fundamentals of Nursing. Your transcript on the Fundamentals will be one of the requirements when you apply for the license exams.
During you instruction you will practice many of the skills required under the guidance of a registered nurse. Some of the primary tasks you will practice using are: communication protocol, infection/safety procedures, personal care (bedmaking, feeding, grooming, perineal care, dressing, bathing, toilet), catheter care, exercise/range of motion, transferring patients, checking vital signs, and dealing with clients with special needs. You will be asked to perform five of these skills during your skills demonstration exam.
The license exams for Nevada are conducted by Pearson Vue. Their exams are composed of a written exam and a skills demonstration of the basic nursing skills. You can get a sample questions for the written exam at https://www.prometric.com/en-us/clients/Nurseaide/Documents/Nevada/FINALNurseAidePracticeTestItemswithanswers110.pdf.  As for the skills checklist, you can download a copy of the list at https://www.prometric.com/en-us/clients/Nurseaide/Documents/Nevada/NVNAClinicalSkillsChecklist_20120906.pdf.
This city is situated in Clack County. It is also a part of the Las Vegas metropolitan area. North Las Vegas was incorporated back on May 16, 1946. This city has a total area of approximately 78.5 sq miles, where all of it is land. According to the census of 2010, their total population was at 216,961. Its population density is 1,471.0/sq mile. Major highways that you can use to access this city include Interstate 15 and CC-215.
Examples of health care centers and providers that you can find in the area include STD Test Express, Center for Behavioral Health, N Las Vegas Family Health Center, Take Care Clinic, Centennial Hills OB-GYN Assoc, Las Vegas Kidney Clinic, Women's Generation Health Care, Vista Medical Associates, and ATC Health Clinic. photo attribution: stuttermonkey