Those who want to be students of a state approved nursing assistant training course can find the available programs in Noble, Oklahoma on this page. Representatives can be contacted using the phone number listed here with any questions you may have about signing-up.
Noble Health Care Center
1501 North 8th Street,
Noble, OK 73068
(405) 872-7102
The completion of a state-approved training program is a necessary step in becoming a nursing aide. By completing a program that is approved by the Oklahoma State Department of Health, you will become eligible to apply for the competency exam. Only by passing all the tests will you gain entry into the state Nurse Aide Registry and be allowed to work as a CNA.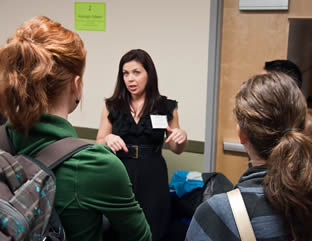 To ensure that the training that the students receive meet the federal and state standards, programs are must get certified before handling any students. One of the main requirements for a training program to be certified is that the students must be taught by qualified instructors. An RN supervising the program must have at least 2 years of working experience; one of those years must have been spent working in a long term care facility. He must also complete a course in teaching adults and have some experience in supervising nursing aides.  Health care professionals such as therapists, pharmacists, and nutritionists may also find work as supplemental instructors.
When enrolled, your training will be divided into lectures and clinical training. Programs are required to offer at least 75 hours of classroom lectures and 16 hours of clinical training. The students must also get a minimum of 16 hours of learning topics such as infection control, safety, emergency, resident's right and independence, and personal care before they are allowed to handle any patient. It can take 4-8 months of continuous training to complete a program, depending on the program you choose to enroll in.
As soon as you complete the program, you will receive a certification of completion. This certification will be one of the major requirements needed when apply for the competency exam. Other requirements that you need to submit along with the application form and the fees include fingerprint card, ID photo, a negative TB test result, the result of your background check, and proof of your complete immunizations. Since nursing students and graduates are also allowed to apply, they will be asked to provide a copy of their diploma and/or transcript of records.
The competency exam consists of a written/oral exam and a return demonstration of 5 selected nursing skills. You can get a feel for the written exam by taking the sample test, which can be found in the candidate handbook. The handbook also contains the complete list of the nursing skills that will be asked to be performed. If you have any more questions about the exams, you can call the OSDH at (800) 695-2157 or (405) 271-4085.
This city is a part of Cleveland County. This city is considered as the third biggest city in the county. As of the 2010 census, their total population had reached up to a total of 6,481 people. It has a population density of 420.1/sq miles. The total area of the city is approximately 12.9 sq miles, where all of it is land.
Examples of health care providers and centers that are available in the area include Noble Health Care Center, Haralson Harold, Natives Health Center, Take Care Clinic at select Walgreens, Faris Clinic, Cofmc – Noble Day Treatment, and many more. photo attribution: ufv