The nursing assistant training programs that are available for you to enroll in within Newport, Rhode Island are shown here. If you have any questions about instruction curriculum, cost of tuition, or class schedules, please contact any facility listed below.
Newport Area Career and Technical Center
15 Wickham Road,
Newport, RI 02840
(401) 849-3608
Aquidneck Island Adult Learning Center
435 Broadway,
Newport, RI 02840
(401) 847-7171
According to the law, you can only work as a nurse aide in the State of Rhode Island if your name is on the Nurse Aide Registry, and if you have an active certification. To get your name entered into the NAR and get certified, you need to pass the National Nurse Aide Assessment Program Exam.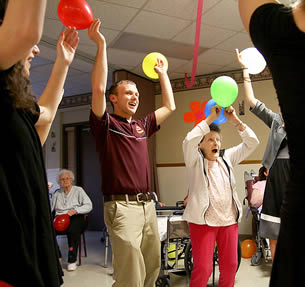 The NNAAP exam is divided into two parts that consist of a written exam and a practical demonstration exam. Candidates who have trouble reading can request to take the oral version of the written test. This exam was developed to test the competency of every aspiring nurse aide candidate in the United States. To help sort the competent from the incompetent ones, only those who have completed a state-approved training program are eligible to apply.
Establishing Eligibility:
New Nurse Aide
All nurse aide students who are applying for the NNAAP exam are required to successfully complete a Rhode Island Department of Health approved training program. These programs are required to offer at least 100 hours of instructions and must not last more than 90 days. However, most of the programs offer 88 hours of classroom/laboratory instructions and 32 hours of supervised practical training in a certified nursing facility. Students are handled by a clinical instructor who has at least 2 years of nursing experience and has completed the Train-the-Trainer course.
Nursing Students/Graduates
A nursing student who is actively matriculated in an approved nursing program and has completed at least 2 clinical courses may apply for the NNAAP exam. Interested candidates need to submit their transcript of records, to show proof of their training and education, to the Rhode Island Department of Health.
Applying for the NNAAP exam
Once your training is complete you can submit a completed application along with your proof of completion of training, immunization records, photo I.D.'s, TB card, fingerprint card, and the results of your background checks to schedule a time to take the test.  If your instructor didn't give you the forms, you can visit www.pearsonvue.com or call the CCRI at (401) 333-7077 to obtain the necessary forms. All applications must be sent to the address provided below:
Community College of Rhode Island
Center for Workforce and Community Education
Rhode Island NNAAP
400 East Avenue
Warwick, RI 02886
The city of Newport is located on Aquidneck Island, which is in Newport County. This city is located just a few miles south from Providence. This city is also serves as county seat of Newport County. According to the latest census, their total population had reached up to a total of 24,672 residents. It has a population density of 3,123.0/sq mile. The total area of the city is approximately 11.5 sq miles, where almost half of it is water.
Health care providers that you can find serving Newport include Family Physicians of Newport, East Bay Community Action Program, Tranquil Moments Therapeutic Massage, Gold Sondra Psycholgst, Suboxone Treatment of Newport, Powel Psychological Group, Newport Medical Center, and many more. photo attribution: jmsmith000