Training located in Mount Vernon, Washington that shows students how to become nursing assistants are available here. Programs featured are currently open for enrollment and have meet the requirements of the OBRA registry. Contact a representative to get details about how to sign-up and receive certification to work.
Life Care Center of Mt. Vernon
2120 East Division Street,
Mt. Vernon, WA 98273
(360) 424-4258
Mira Vista Care Center
300 South 18th Street,
Mount Vernon, WA 98274
(360) 424-1320
Skagit Valley College
2405 East College Way,
Mt. Vernon, WA 98273
(360) 416-7600
A CNA Certification is a requirement to work as a nurse aide in the state of Washington. If you have some idea about the certification process, just remember that each state has its own requirements regarding this process. However, the majority does involve completing an approved training program and taking the competency exam.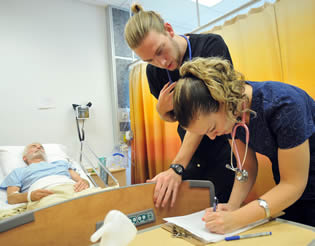 Nurse aide training in Washington consists of at least 85 hours of training. All training curriculum consists of both theory and practical training, which are both taught simultaneously. During the entire training process, students will be handled by a qualified licensed nurse who was trained to handle nursing aide students. Before students are allowed to take care of the patients/clients, they are required to learn the following concepts in the classroom:
–    Infection Control
–    Respecting the Patients' Rights
–    Promoting the Patients' Independence
–    Basic Nursing Procedures
–    Communication and Interpersonal Skills
–    Safety Precautions and Emergency Care
–    Roles and Responsibilities
After you complete your training, you'll be allowed to apply for the competency exam. This exam is divided into a 70-item written/oral test and practical skills exam. Passing both tests will mean that you are a capable nursing aide. Your name will also be entered into the Nurse Aide Registry. Only individuals whose names are on the Registry are allowed to apply for a CNA Certification from the DOH.
If a person was already working in a healthcare facility before they enrolled in a training program, then all expenses, including the payment for the competency exam, must be shouldered by the hiring facility. Others can also get a reimbursement if they manage to get employed within one year after getting certified.
CNA certifications in this state are only valid for one year. Holders must renew their certification if they wish to remain eligible to work in a state-approved nursing facility. There is a corresponding fee that must be paid for the processing. The deadline for renewal falls on the holder's date of birth. That is why it's advisable to renew at least 4 to 6 weeks before the expiration. You can renew your certification online by following this link: http://www.doh.wa.gov/LicensesPermitsandCertificates/ProfessionsNewReneworUpdate/LicenseRenewals.aspx.
This city can be found in Skagit County. It is considered as the county seat of Skagit County. It is a main city of the Mount Vernon-Anacortes, Washington Metropolitan Statistical Area. According to the census of 2010, their total population had reached up to a total of 31,743 people. It has a total area of approximately 11.4 sq miles, and has a population density of 2,360.6/sq mile.
Health care centers that you can find serving the city include Newman-Kennedy Speech & Language Center, Mental Health Ombuds Service, Skagit Hospice Services LLC, Skagit Valley Ultrasound Associates, Cascade Ear Nose & Throat, Mount Vernon Women's Clinic – Obstetrics & Gynecology, and Vital Aging Clinic LLC. photo attribution: ufv