Do you want to know which classes are currently being offered for nurse aides in the town of  Morton, Washington? Below you can see all of the latest training that has been approved and will grant the ability to test for certification upon completion.
Morton Hospital
521 Adams Street,
Morton, WA 98356
(360) 496-5328
Nursing Aides are one of the most in demand healthcare professionals in Washington. Their demand is believed to continue increasing up until the end of the decade. The profession's high demand has made people curious what the profession is all about. If you are considering becoming one, then you might want to read this page first.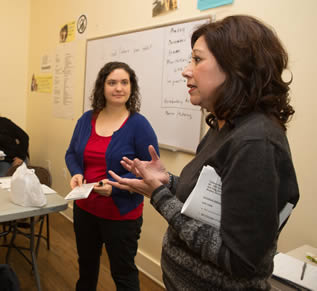 What are Nursing Aides?
Nursing aides work under the supervision of licensed nurses and licensed practical nurses. They help provide and maintain nursing services to patients/clients who are in different healthcare settings, which include their own homes.
How to become a Certified to Work Long-Term?
The first thing that you'll need to do is to enroll in a state-approved Nursing Aide Training Program or NATP. You must equip yourself with the different knowledge and skills that you might use when you take care of the patients. NATPs will also help prepare you for the different situations that nursing aides encounter in the working area.
Completing an approved training program is a requirement to establish eligibility for the NNAAP exam. This exam consists of a multiple-choice written/oral test and a skills evaluation exam. If you pass both tests, then you'll gain entry into the state's Nurse Aide Registry and will be given a certification. Taking this exam is necessary since you can only work as a full-time nursing assistant if your name is on the NAR, and if you have an active certification.
What will you learn in an NATP?
NATPs are required by the state's Department of Social and Health Services to consist of at least 35 hours of lectures and 50 hours of supervised clinical practice. Both lectures and practical training are taught simultaneously. During the entire program, students will be under the care of a CNA Instructor. Examples of the skills and concepts that are taught in a program include, but are not limited to the following:
–    Patient's Rights
–    Vital Signs
–    Communication and Interpersonal Skills
–    Safety Precautions
–    Emergency Care
–    Body Mechanics
–    Mental Health
–    Basic Nursing Procedures
–    Personal Care
–    Roles and Responsibilities of a Nursing Assistant
Are there other ways to become Licensed?
There are different routes that you can follow to become qualified for the NNAAP exam. Nursing students and graduates are allowed to immediately apply for the NNAAP examination even without completing an approved training program. The same goes for individuals who received military-training as a medic or persons who completed other healthcare training courses such as a CMA or HHA.
This city is a part of Lewis County. It was first settled in 1871 by James Fletcher. The city was named after former Vice-President Levi P. Morton. According to the census of 2010, their total population was around 1,126 people. It has a total area of approximately 1.0 sq miles and has population density of 1,000.7/sq mile.
Examples of health care providers and facilities that you can avail in the city include Morton Medical Center, Hansen Mark MD, Cooper Merrell DO, Morton General Hospital, Family Physical Therapy & Sports, Cascade Mental Health Care, and many more. photo attribution: usdol