The certified nurse aide training classes that are available for enrollment in Monticello, Mississippi are all found in detail on this page. For more information about their training, you can call them with the number provided below. Programs must be authorized by the state in order for them to qualify you to take the competency examinations.
Lawrence County Nursing Center
700 Jefferson Street,
Monticello, MS 39654
(601) 587-2593
To get your name entered on the NAR, you must be able to pass the NNAAP examinations, which are offered through Pearson Vue. Their exams are composed of a written and a skills evaluation. You can also have an Oral examination instead of a written one by requesting for it when you apply for the exams.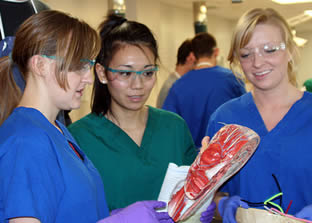 The written/oral exam will be composed of mostly 60 items of multiple-choice questions. The written exams will have 10 questions that are pre-test questions and will not be included in the total score. As for the oral exam, it will have 10 questions involving reading and comprehension.
In the skills exam, the applicant will be given a simple scenario where he will be asked to perform 5 randomly selected nursing skills in front of a nursing aide evaluator. Each student will be allotted 25 minutes to do all the tasks. Examples of the skills are washing of hands, application of knee-high stockings to the patient, assisting in ambulation with the use of a transfer belt, assisting the use of a benpan, and oral care.
To get your certificate, you must be able to pass all the tests.To schedule an exam date or get additional details about qualifications required you can contact Pearson Vue by calling 1-888-204-6213.
Once you pass the exams, your name will be added to the Registry and your certificate will be sent to you. Your certificate is only valid for 2 years. You will need to renew it before it expires in order to remain eligible for work. To do this, you must have worked for at least 1 day within that time. To speak with a representative of the Mississippi State Department of Health about renewal instructions you can call 601-364-1100.
Monticello is a small town located in Lawrence County. This town also happens to be its county seat. According to the last census, the total population of Monticello had reached 1,726. This town has a total area of only 3.2 square miles, where only 0.1 square mile of it is water. photo attribution: iubmedicalsciences