One can find the facilities in Moncks Corner, South Carolina that are currently offering nurse aide classes available below. Included in the list are all schools that are approved by the state of SC Department of Health. To get further info call to speak with a program administrator.
Trident Technical College – Continuing Education
1001 South Live Oak Drive
Moncks Corner, SC 29461-7224
(843) 899-8000
If you wish to become a nursing assistant, then you must first undergo the proper training. By completing an approved training program, you will become eligible to apply for the certification exam. The certification exam is one of the ways to gain entry into the South Carolina Nurse Aide Registry. According to the law, only certified nursing assistants will be allowed to work in a long term care facility, especially those that are run by Medicaid.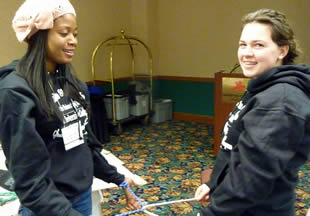 Training programs in South Carolina offer take 100 hours to complete. These hours are divided into lectures and at least 40 hours of clinical practice. You will be taught different concepts of the Fundamentals of Nursing. You will learn how to properly assist patients with their daily activities like bathing, dressing, eating, exercising, toileting, ambulating, and many more. Since nursing assistants work under the supervision of licensed nurses, the tasks that you will do will be based on what they delegate.
After you complete your training, you will be ready to challenge the certification exam. This exam consists of a written test and a skills evaluation. By passing this exam, you will get your name entered on the Nurse Aide Registry. You can get a copy of the application forms by going to www.pearsonvue.com.
Each candidate will only be given a maximum of 3 attempts to pass all the tests. If you fail in at least one, you will need to reapply and take the exam you failed. Candidates who failed can apply 45 days after their previous exam date. If you still fail after the third attempt, you will be required to undergo retraining before you can apply again.
Listings on the Registry are only valid for 2 years. To keep your certification current, you will need to work, for pay, as a nursing assistant for at least 8 hours. The Registry will send to your mailing address the necessary forms  2 months before your certification expires. There is also a renewal fee of $28 that must be paid in the form of a money order, cashier's check, or a company check. For those who are still working under a Medicaid facility, their renewal fees will be paid by their employers.
This town is the county seat of Berkeley County. This town was founded back in 1728 and was named after landowner Thomas Monck. This town is also included in the Charleston–North Charleston–Summerville Metropolitan Statistical Area. It has a total population of 5,952 during the last census. Its total area was around 4.5 sq miles, and has a population density of 1,333.1/sq mile.
Examples of health care centers that you can find in the area include DDC- DNA Diagnostics Center, G & G Treatment Center, Grosso Michael F DMD, Appel & Appel Drs, Roper Home Health Care, Jones Edward J III MD, Women's Primary Care, Bounds Charles W MD, Grant Paul M MD, True Heart Counseling Services, and many more. photo attribution: create-learning