The certified nurse aide schools located on this page have met the approval of the state and are currently available  in Miles City, Montana. These courses upon their completion will allow you to schedule a date to take the competency exams. Those who pass the exams become certified and are able to work in health care centers throughout the state.
Heart and Hands Training
Rt. 1 Box 2245, 5336 Valley Drive East,
Miles City, MT 59301
(406) 234-1747
http://www.heartandhandstraining.com/
For you to become a nursing assistant, your name must be entered on the state's Nurse Aide Registry. It will only be entered there if you were able to pass the license exams as well as other federal and state requirements.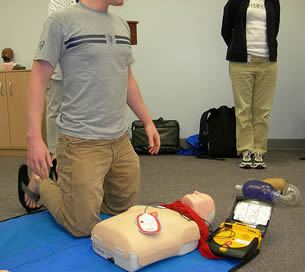 In order to become eligible to take the exams, you must complete a state-approved training program. While enrolled, you will be spending a total of 75 hours of classroom instructions and 16 hours of clinical experience in a nursing facility. Your instructors for the program can be professionals from different field in the healthcare industry. They may be pharmacists, nutritionists, medical social workers, registered nurses, or therapists.
After completion of your classes you will need to apply and complete the state certification exams to have your your name entered in the state's registry. The license exams for Minnesota are composed of a written and a skills examination portion. In order to get your name on the Registry, you will need to pass both exams. Out of all the skills that will be asked to be performed, all you have to do is to perform 9 skills satisfactorily in order to pass the skills tests. You can find the list of the skills that may come out at http://www.dphhs.mt.gov/cna/SkillsChecklist.pdf.
You can call to speak with a staff member of the registry to learn more about the latest requirements at (406) 444-4980, or reach them through their email support with questions at: cna@mt.gov.
Miles City is the county seat of Custer County. According to the census of 2010, their total population had reached up to a total of 8,123 residents. They have a population density of 2,593.3/sq mile. The total area of the city is approximately 3.3 sq miles, where all of it is land.
Examples of health care centers that are found in the city include Holy Rosary Healthcare, Billings Clinic-Miles City, Youth Dynamics Inc., Eastern Montana Mental Health Center, VA Montana Healthcare – VA Outpatient Clinic, Public Health & Human Services Mental Health Center, Holland Randy, Crisis Line, and many more. photo attribution: niels_olson