The certified nurse aide training courses found in the city of Mangum, Oklahoma are found on this page. If you want to know more about the programs and their requirements, please call the phone number below.
Grace Living Center
320 Carey,
Mangum, OK 73554
(580) 782-3345
If you are planning on entering the medical field, then you should consider becoming a nursing assistant in the state of Oklahoma. This type of job is increasing in demand as the number of people who need assistance with their basic needs and daily activities increases.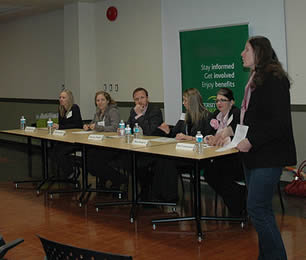 Nursing assistants work under the supervision of a registered nurse. They take care of the patients with the basic nursing skills that they learned in a CNA training program, which they were required to enroll in. There is an increasing demand for nursing aides all over the country. This growth in demand is believed to increase up to 2016. If you are looking for a practical way to start a career, then becoming a nursing aide is the answer.
To work as a nursing aide, you must be on the Nurse Aide Registry. This registry is a list of individuals who were able to meet the federal and the state's training and testing requirements. Only those on the registry will be allowed to work as a nursing aide.
There are two ways to get into the Oklahoma NAR. One way is to challenge the nursing aide competency exam. This exam was created to test the NA candidates' competency in terms of skill and knowledge to function as a nursing aide. Only those who were able to complete a state-approved CNA course will be allowed to take the exam. Nursing students/graduates and foreign-trained nursing graduates are also allowed to take the exam without undergoing any more training.
The competency exam's first part is the knowledge test. This is a written exam that consists of 72 multiple-choice questions. Takers will be given 90 minutes to answer all the tests. An oral version of this may also be taken in conjunction with the written version. For those who wish to take the oral test must submit a request along with their application for the exam. There is an additional charge for those who wish to take the oral test.
The second part of the exam is the skill test. In this part, candidates will be asked to perform 5 nursing skills in front of a nursing aide evaluator. One of the skills will always be proper hand washing while the rest will be randomly selected. Candidates will have 35 minutes to do all the skills.
The second way of getting into the registry is by applying for reciprocity. This process is only offered to CNAs, who are already listed in another state. When they apply, they must have a valid certification and a good record. Applicants with records of abuse, neglect, or theft may not be allowed to work in the state. When applying, they will have to provide proof of their education and training, as well as pass the national criminal background check.
For more questions about how to become a nursing aide, you can call the Oklahoma Nurse Aide Registry at (800) 695-2157 or (405) 271-4805. If you want to ask questions regarding the exam, you can call Headmaster Testing Services at (800) 393-8664.
The city of Mangum is the county seat of Greer County. It is also known for being the home of the fourth longest-lasting light bulb, which is stated in the The Guinness Book of World Records. As of the 2010 census, this city has a population of 3,010. It has a population density of 1,800/sq mile. The total area of Mangum is approximately 1.7 sq miles, where all of it is land.
Examples of health care facilities and providers that are located within the city area include Take Care Clinic at select Walgreens, Locklear Benjamin M DR, Jcmh Family Care Clinic of Mangum, Quartz Mountain Clinic, Adultcare Medical Clinic, TLC for Life, Jackson County Memorial Hospital, and many more. photo attribution: ufv