The training for nursing assistant students in Manassas, Virginia that are open for enrollment are listed on this page. For more information about the classes, program schedules, certification requirements, or the cost of instruction, please call the numbers for the CNA training facilities provided below.
Advanced Health, Inc.
9834 Business Way
Manassas, VA 20110
(703) 361-7708
Birmingham Green
8605 Centreville Road
Manassas, Virginia 20110
(703) 257-0935
Working as a nursing assistant in Virginia means that you will be working under the care of registered nurses.  As a nursing assistant, you get to work closely with patients and other health care team members. Nursing assistants provide basic nursing care to the patients as well as help them with their daily activities such as bathing, dressing, toileting, eating, exercising, ambulating, and others.  This profession is best suited for people who truly want to help others.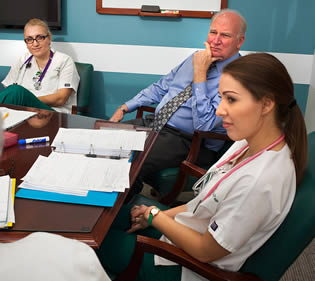 Since you'll mostly be with patients throughout your working hours, it is important that you equip yourself with the basic knowledge and skills that you might need when taking care of them. You can easily learn how to become a competent nursing assistant by enrolling in a  training program that is approved by the BON.
To be accepted into a program, you must meet the following general requirements:
–    Age: at least 16 years old
–    English Competency: must be able to read, write, speak, and understand English
–    Educational Background: Most programs in the state do not require any educational prerequisites. However, there are some that require their applicants to have a high school diploma or a GED certificate
–    Health Condition: Have complete immunization and be physically fit to take care of patients
–    Criminal Background: must pass the national criminal background checks
Most training programs in the state can be completed within 6 months of training, especially if you enroll in a facility-based program. The only problem with enrolling in one is that you'll need to get certified within 4 months from the start of your training.
Completing an approved program will make you eligible to apply for the NNAAP exam. Application forms are normally provided by the clinical instructor. If you do not get one or if you lost yours, then you can download and print a copy by going to this link:
http://www.asisvcs.com/publications/pdf/075301.pdf. The application form already contains information on where to send it as well as the testing fee that you should send along with it.
Once the NACES receives your application and approves it, you will receive an Authorization to Test. It will also contain information on what you should do next. If you become unavailable on your scheduled date, you can inform the testing center and reschedule. Rescheduling is free if you inform the testing center at least 5 business days before your testing day.
The NNAAP exam consists of a multiple-choice knowledge test and a clinical skills exam. Both these tests are taken on the same day at a Regional Testing Center. Candidates must pass both tests to get a CNA certification. If you fail, then you can immediately reapply and reschedule for a retake. You must pass within 2 years from the first time you took the exam.
This city is an independent city that is surrounded by Prince William County. It is and is the county seat of Prince William County. According to the census of 2010, their total population had reached up to 37,821, with a total area of 10.0 sq miles, and has a population density of 3,538.2/sq mile. Manassas is also included in the Washington Metropolitan Area.
Examples of health care centers that you can find in the area include Altmed Medical Center, Stark Randolph W MD Faad, Cintas Facility Services of Manassas, VA, Piedmont Medical Labs, National Counseling Group Inc., Valley Health Clinic, Right at Home, Genesis Healthcare Corp, Prince William Healthcare Auxiliary, and Old Town Manassas Medical Center. photo attribution: codnewsroom