The nursing assistant classes in Lynchburg, Virginia that are being offered as of the making of this post are listed in detail below. Included in the list are the college and vocational training programs that are being offered in Lynchburg. Call the phone number for one of the schools listed on this page for more information about their medical training.
Alete Home Health Solutions
801 Court Street,
Lynchburg, VA 24504
(434) 401-2441
Central Health, Inc.
3300 Rivermont Ave.
Lynchburg, VA 24503
Generation Solutions
1032 Claymont Drive
Lynchburg, VA 24502
(434) 455-0504
The first thing that you must do to become a nurse aide is to look for a CNA program to enroll in. You must only enroll in a program that is approved by the Board of Nursing. Numerous institutions are now offering training programs because of the increasing number of people who wish to become nurse aides.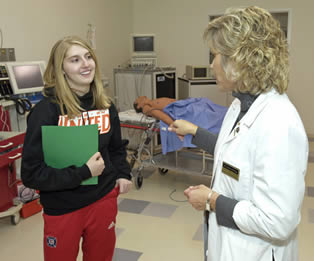 CNA training consists of at least 75 hours of training. These hours are divided into theory and clinical practice and are taught at the same time. While the students are in the clinical area they will be placed under the supervision of a registered nurse with at least 2 years of experience working in a long-term care facility. Students are not allowed to perform any procedure that has not yet been taken up in the classroom.
Examples of the things that are taught in a program include:
•    Patient's Rights and Independence
•    Basic Nursing Care
•    Personal Care
•    Emergency Procedures
•    Safety Precautions
•    Vital Signs
•    Proper Documentation
•    Human Anatomy
•    Weights and Measurements
•    Long-term Patient Care
•    Mental Health
•    Communication and Interpersonal Skills
•    Medical and Surgical Asepsis
Training programs in the state can usually be completed within 6 months. As soon as you are through with your training you will become eligible to take the National Nurse Aide Assessment Program Examination. This exam consists of a written (oral) test and a practical skills test. If you pass both of them, then your name will be added to the Nurse Aide Registry and you will receive a CNA certificate from the Virginia Board of Nursing.
Nursing students, graduates, and nurse aides with a lapsed certificate can apply for the NNAAP exam if they provide proof of their training and education.  These people are required to call the Board at (804) 367-4569 before submitting their application forms.
When taking the NNAAP exam, please arrive at the testing center at least 30 minutes before the start of any portion. Latecomers are no longer allowed to enter the testing area once the exam has begun. You must also bring a valid ID and a copy of your social security card for the check-in. You will not be allowed to take the exam if you fail to bring either of the two.
The state of Virginia accepts nurse aides from other states. They can transfer and work in Virginia if they apply for endorsement. Those who are able to meet the requirements for endorsement will no longer be required to test. To get an application form for endorsement, please visit www.dhp.virginia.gov/nursing. If you need to talk to someone regarding other matters, feel free to call the Board with the number provided above.
This city is an independent city that is in the Commonwealth of Virginia. You can find the city situated in the foothills of the Blue Ridge Mountains. It is the principal city of the Metropolitan Statistical Area of Lynchburg. Nearby cities include Roanoke, Danville, and Charlottesville. According to the census of 2010, their total population had reached up to 75,568 people. It has a total area of about 49.8 sq miles and has a population density of 1,321.5/sq mile.
Major hospitals that are serving the city include Lynchburg General Hospital, Virginia Baptist Hospital, and the Bedford Memorial Hospital. Other health care centers that you can find in the area include Lynchburg Academy of Medicine, Gentiva Home Health, Health Care Consulting, Meds Help At The Free Clinic, and many more. photo attribution: codnewsroom