All the certified nursing assistant classes that are located in Lucedale, Mississippi are found on this page. Courses found on this page have met the requirements of the state registry. Programs will provide you with clinical skills experience and theory instruction, as well as help prepare you for the testing for certification.
Glen Oaks Nursing Center
55 Susanne Street,
Lucedale, MS 39452
(601) 947-2783
The first task in getting your CNA certificate is to find a training program to enroll in. By completing a 130-hour state-approved training program, you will become eligible to take the state's license exams. If you pass all the tests in the license examination, your name will automatically be entered on the state's NA Registry and you will receive your certificate. Nursing graduates and foreign registered nurses are also able to apply for the exams if they meet the requirements.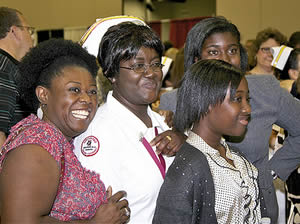 Only those whose names are on the Registry and have an active status are allowed to work in a nursing facility. Another way of getting your name on the list is by applying for reciprocity. The process of reciprocity however, is only available to those who are already a nurse aide who is currently registered to a different states Registry.
Nurse aide certificates in this state are only valid for up to two years. To remain active in the Registry, you must have worked for at least 8 hours every two years. For those who are working in a long-term healthcare facility, they are also required to complete the 12-hour yearly in-service.
Lucedale is the county seat of George County. This city is a part of the Pascagoula, Mississippi Metropolitan Statistical Area and according to the 2010 census their total population had reached up to almost 3,000 people. Lucedale has a total area of approximately 3.8 square miles, where all of it is land.
This city's healthcare needs are mainly taken care of by the George Regional Health Facilities, which was formerly known as George County Hospital. Aside from this city, the facilities also serve other places like, stone, Jackson, and Green counties. Other healthcare facilities that you can find in the city include Cardiology Associates, Live Oak Med Equip & Supplies, Da Vita Healthcare Lucedale, Pine Grove Lucedale, and Singing River Mental Health. photo attribution: germannacommunitycollege