Nurse aide classes being offered in Lincoln, Illinois that are available as of the making of this post are shown to you in detail below. For more information about enrolling in a training program, feel free to call the number provided below to talk with a program coordinator to learn more.
Lincoln land Technical Education Center
1000 Primm Rd.,
Lincoln, IL 62656
(217) 732-4131
The completion of CNA classes is an important step in becoming certified and eligible to work in long-term care facilities and health care centers. If you want to become one, you need to receive the proper education and training to ensure that the quality of care you render to the patients is good. You can see that these programs are found all over the state being offered by different institutions like colleges, high schools, and even healthcare centers.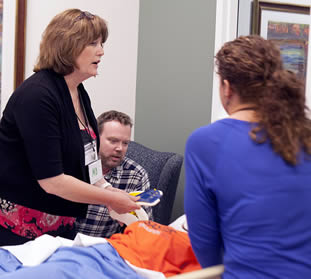 As a nursing assistant student, you will be spending your hours in both classroom instruction and clinical skills training. According to the state rules, the student must have at least 40 hours, inclusive of the needed course work, to pass a training program. Even as a student you will already be exposed to the clinical area while being under the care of a registered nurse. These clinical experiences are thought to form a solid foundation for their future careers.
After they complete their training, they can then move on to applying for the license exams. Taking the exams is an important step since the state does not allow any individual to work in a healthcare setting if their name is not entered in the registry. You can call to speak with a state registry customer service representative for additional help by calling 217-785-5133.
Lincoln is the county seat of Logan County. It is the only town in the country that was named after Abraham Lincoln before he was president. They knew about Abraham Lincoln  because he practiced law there for several years. You can find this city on Interstate 55. It is situated just between Bloomington and Springfield. You can also find this city on Interstate 55. Other major roads that are serving this city include State Route 10 and 121.
Health care centers that you can find in the city include Dental Health Associates of Il, Family Medical Center, Gambro Healthcare, Tazewood Mental Health Center, Springfield Clinic, Logan County Health Department, Lincoln Health Care Specialists, Mental Health Centers of Central Illinois, Abraham Lincoln Memorial Hospital, Alcohol Substance Abuse Counseling-Logan Mason Mental Health, and many more. photo attribution: codnewsroom