The vocational facilities in Laurens, South Carolina that are currently available for enrollment in nurse aide training are shown on this page. For more information about their certification programs, classroom schedules, or the cost of school instruction, just call the number below.
Laurens District 55- HST
5058 Hwy. 76 West
Laurens, SC 29360
864-682-3151
NHC – Laurens
301 Pinehaven St. Ext. PO Box 1259
Laurens, SC  29360
864-984-6584
Piedmont Technical College Laurens Site
663 Medical Ridge Road
Clinton, SC 29325
864-941-8426
According to the federal and state laws, only nursing aides who are listed in the Nurse Aide Registry will be allowed to work in long term care facilities, including Medicaid nursing homes. If you have not yet been certified as a nursing aide, then your only choice to get into the NAR is by passing the National Nurse Aide Assessment Program exam, or the NNAAP exam.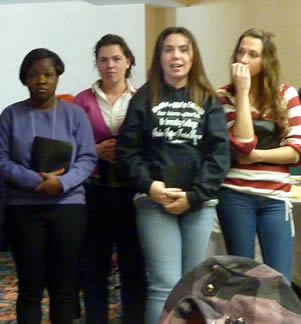 This exam is divided into two parts. The first part is the knowledge test. Normally, this test is given as a written exam with 70 multiple-choice questions. For those who have difficulty in reading English, they may request the oral test instead. To get an oral test instead of a written one, a formal request letter must be sent along with the other NNAAP application requirements.
The oral test may be taken in either English or Spanish. Unlike the written tests, this test consists of two parts. The first part will basically be a written test read aloud. This part contains 60 items in total. The second part will test a candidate's ability to understand the common English words used by nursing aides.
Regardless of which exam you choose, you will only be given 2 hours to answer all the questions. The instructor will warn the candidates if there are only 15 minutes left. As soon as you are done, your test will be faxed to Pearson VUE for scoring. If there are no problems, your score reports will return after 10 minutes.
The second part of the exam is much shorter. Each candidate will only have 35 minutes to perform all 5 tasks that were chosen. Out of the 5, only the 4 will be random since the first will always be proper Hand-washing. All the tasks must be done in a given scenario and in front of a nurse aide evaluator. The evaluator will be scoring the skills based on each of the skills' checkpoints. In order to pass this part, you will need to perform all skills satisfactorily.
If you pass all the tests, your name will be entered into the NAR. If you want to know more about the NNAAP exams, you may visit Pearson VUE's official website at www.pearsonvue.com. You can download a copy of the Candidate Handbook there, as well as try their sample knowledge tests.
The city of Laurens is the county seat of Laurens County. It is included in the Greenville–Mauldin–Easley Metropolitan Statistical Area. This town was said to have been founded in 1873 and was named after Henry Laurens of Revolutionary War fame. It has a total population of 9,139 during the 2010 census. It has an area of approximately 10.6 sq miles and a population density of 936.3/sq mile.
Examples of health care centers that you can find in the area include Parrish Home Medical, Health Related Personnel, Health Related Home Care, Advanced Biomechanical Solutions, HospiceCare of the Piedmont Inc., Laurens Home Medical Services, Cvs Pharmacy Medical Alert System, Medical Guardian, NHC Homecare, and many more. photo attribution: create-learning