The nursing assistant schools in Lake City, Florida that are found on this page offer all the CNA classes that are open for you to enroll in as of the moment.
Columbia High School
469 Se Fighting Tiger Dr.
Lake City, FL 32025
386-755-8080
Florida Gateway College
149 SE College Place
Lake City, FL 32025
386-754-4362
Lake City Community College
149 Southeast College Place
Lake City, FL 32025
(386) 752-1822
Your fist step in becoming a nursing assistant is passing a state-approved CNA training program. You can find these programs being offered by colleges, high schools, and some healthcare centers. Being a nursing assistant student means that you must spend 75 hours of classes and 100 hours of skills training in order to complete the program. You will have the opportunity to experience what it is like to work in an actual health care setting. This experience will forge a great foundation for you and your fellow student.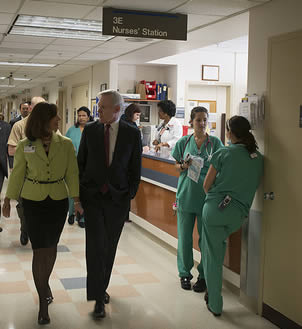 While being enrolled in the program, you will be taught in the different concepts on the Fundamentals for Nursing. Such concepts include infection control, mental health, rehabilitation, communication skills, and indirect care. You will also be taught in different procedures and skills that you will be using in taking care of the patients like bed bath, offering bedpans, assisting in ambulation, dressing, performing ROM exercises, as well as the simpler procedures like hand washing.
The skills that you will learn will be tested during 2nd part of the certification license exams. You will be rated based on the different checkpoints that must be performed for each skill. To pass the 2nd part of the examinations, you have to successfully perform all skills. To get your license, you must also pass the first part of the exams, which is the written exam. You can also request to have an oral examination if you prefer it more than the written exam.
This city is the county seat of Columbia County. It is the principal city of the Lake City Micropolitan Statistical Area. The earliest settlers in the area came in 1830. Its previous name was Alligator before it was changed to its current name in 1859. According to the latest census, their total population was around 12,614 people. It had a total area of 11.1 sq miles, and a population density of 1,197/sq mile.
Health care centers that you can find in the area include Lake City Medical Center, The Health Center of Lake City, Meridian Behavioral Healthcare, Barnes Healthcare Services, Nutrition Health Center, Edwin Gonzalez MD FACS, Covenant Healthcare Lab Inc., Strauss Guy S Doctor of Osteopathi, and many more. photo attribution: usnavy