The certified nurse aide classes you can find in La Porte, Indiana are listed in detail below. If you know of other listings that meet state requirements and are available in the city, please contact us and we will add them to the page.
Continuing Care Center of Laporte Hospital
1007 Lincolnway,
Laporte, IN 46350
(219) 326-2400
Golden Living Center
1700 I Street,
Laporte, IN 46350
(219) 362-6234
http://www.goldenlivingcenters.com/locations-staff/find-care-location/welcome/golden-livingcenter-laporte-in.aspx
There are several requirements that you have to comply with before you can become a CNA. To become certified you must be able to graduate from a state-approved training program and take and pass the license exams. The school you enroll in must have at least 30 hours of lectures covering nursing health care instruction and 75 hours' worth of skills duties in either a hospital or a nursing facility.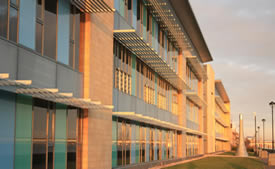 By passing all the tests, your name will be automatically added to the state's Nurse Aide Registry. To be eligible to apply for the exams, you should receive your training from a program or course that is approved by the state. The nurse aide licenses for this state must be renewed every 2 years. To be eligible for renewal, you must have worked for at least 8 hours with pay during that time. If you were convicted of a certain crime during that time, your license will be revoked and you will no longer be allowed to work in all states. Certification holders from other states are also allowed to work in Indiana. Before they are able to do so, they are required to apply for reciprocity. When they apply, their license should be valid and they must have a good relationship with their state.
This city is the county seat of La Porte County. The name of this city is a French word that means "The Door". This city is also known as "The Maple City". It is located a few miles northwest of Indiana, west of South Bend, and east of Gary. It is a primary city of the Michigan City-La Porte, Indiana Metropolitan Statistical Area. According to the last census that was taken there, their total population was around 21,621 people. It had a population density of 1,887/sq miles. The total area of this city is approximately 12.37 sq miles, where almost all of it is land.
Health care centers that you can find serving this city include Liberty Dialysis-Laporte, HealthPartners, Workforce Health, Laporte Hospital – Vna Hospice, Swanson Center, Center for Foot & Ankle Care, Community Health Center/Dental Service, Laporte Medical Group, Laporte Medical Group – Laboratory, Northwest Indiana Ear Nose & Throat Associates, Madison Center, Continuing Care Center, and many more.