The nurse aide training classes that are located in Kosciusko, Mississippi are found in detail on the list below. You can also find on this page information on what it takes to become a CNA in the state. If you have any further questions, you can call the number provided below each course.
Attala County Nursing Center
326 Highway 12 West,
Kosciusko, MS 39090
(662) 289-1200
Attala County Vo-Tech Center
450 Highway 12 East,
Kosciusko, Mississippi 39090
(662) 289-2689
http://www.attala.k12.ms.us/
(Also offers night classes and 2-year high school training program)
If you are planning on becoming a nursing aide, you must take the NNAAP examinations. To be eligible to take it, you must be either a:
1.    New nursing aide
2.    Graduate nurse
3.    Out-of-state or foreign registered nurse
4.    NA from a different state
5.    Lapsed nursing aide.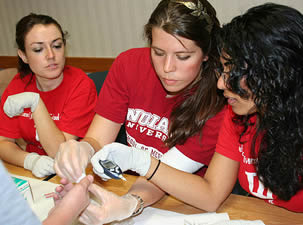 A new nursing aide is a fresh graduate of a NA training course and has not been registered as one in another state's NA Registry. When applying, the applicant will need to fill-out and complete and application form and submit it along with the examination fees, a copy of his training course certification of completion, and a letter from his training program stating that he has completed and passed the necessary training. The requirements for nursing graduates are the similar when applying for the exams, with the only difference in the proof of training.
Other nursing aides that are registered in a different state may transfer work to Mississippi by applying for reciprocity. Reciprocity is the process by which a nursing aide from a different state is granted permission to work in the transferring state. When applying, the applicant must show proof of training and experience and must have an active license. He/She must not have any convictions of abuse, negligence or misappropriation of the patient's property.
This city serves as the county seat of Attala County. As of its last census, it had a total population of 7,372 and a population density of 977.8 sq miles. The city has a total area of 7.5 sq miles, where all of it is land. You can find Kosciusko just northeast of Jackson and just along the Yockanookanay River. This city got its name from a Polish general named Tadeusz Kosciusko.
There are a number of healthcare facilities that you can find in the area. With this in mind, you will not have any problems looking for a job once you become a nursing aide. Examples of such facilities include Gentiva Health Svc, A W Medical Networking, Life Help Mental Health Ctr, Braswell Thomas Eye Clinic, and the Unity House. photo attribution: iubmedicalsciences