The hospital nursing assistant schools offering training courses in Kealakekua, Hawaii that are listed here are all that are open for enrollment. Call the school phone number to get information about class schedules, program curriculum, and tuition rates.
Kona Community Hospital
79-1019 Haukapila Street,
Kealakekua, HI 96750
(808) 322-9311
Website: http://www.kch.hhsc.org/
If you are planning on becoming a nursing assistant, you should start to consider in becoming a nursing aide. This type of job is best suited for people who love to help others without minding the financial rewards and benefits. Nursing aides are one of the most in-demand jobs in the state today. This is because of the increasing number of people who need help in taking care of themselves as well as performing their daily activities.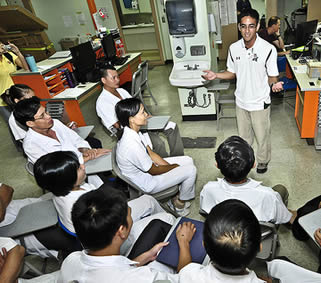 As a nursing student you will be educated on different concepts and trained on the basic nursing competency skills that you will need to take care of different patients. It is very important that you are physically capable of handling different patients as well as be free of any communicable diseases. That is why one of the requirements when applying for the license exams is to undergo TB testing and physical exams. One of the most important requirements that you must submit when you apply is the results for your federal and state background checks for criminal records. If you fail to these checks, you will not be allowed to take the license exams. In Hawaii nursing assistant training classes need to provide 70 hours of lectures and 35 hours of clinical duties. Most programs will take about 2 to 6 months to complete. You can then try to apply to take the license exam. Once you have received your certification you can work legally within the state.
The license exams here are handled by Prometric but the Red Cross in this state also held their own credited license exams. Regardless of where you take your exams from the two, you will have to take on a written and a skills evaluation. You will also need to pass all the exams that are given in order to receive your license and get your name entered in the state's Nurse Aide Registry.
This census-designated place is a part of Hawaii Count. According to the latest census that was taken there, their total population was at 1,645. It has a total area of approximately 7.5 sq miles, where all of it is land. Its population density is estimated to be around 218.1/sq mile.
Examples of health care centers and providers that you can find in the area include Take Care Clinic at select Walgreens, Keiki Health Center, Queens Health Care Centers – Kona Specialty Clinic, Alii Health Center General Surgery, Peebles Lawrence A MD Inc FACS, Arthurs David DO, All Eyes, Cosmetic Center of Hawaii, Keiki Health Center, Kimura Bradon MD Inc., and many more. photo attribution: us7thfleet