The schools providing certified nurse aide classes in Hugo, Oklahoma found here are all open for you to enroll in. For any questions, please call the number below. These courses meet the standards of the OSDH and will allow you to meet the requirements of the license examination.
Baptist Village of Hugo
1200 West Finley Street, Hugo, OK 74743
(580) 326-8383
http://www.baptistvillage.org/
The career option to take right now is to become a nursing assistant. One of its many benefits is that because of its high demand by long-term care facilities, new nurse aide graduates will have no problems finding work.  Once you become a CNA, you can even further your training and career by enrolling in advanced training programs.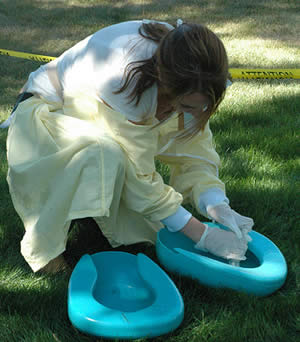 Becoming a nursing assistant in Oklahoma is easy if you first enroll in a nurse aide training program that is approved by the state. You must also pass a background check. Once you complete the program, you can then apply for the state exams where your knowledge and skills will be tested.
The Oklahoma Department of Health has started to fund a new training program that can further the CNA's knowledge and skills by teaching them skills and knowledge that were not included in the basic training course. The great thing about these advance courses is that they are sponsored by the state's DOH and are free to CNA's that are able to qualify.
In order to qualify, you must have worked in a long-term healthcare facility for at least 6 months. If you worked in an assisted living center and other healthcare facilities in that same amount of time can still qualify you to enroll in a CNA II program. Secondly, you will need to get a letter of recommendation from the Administrator of the facility you are working and submit it to the training coordinator of the nearest Oklahoma Career Technology Center to your area.
CNA II training programs takes 27-30 hours to complete. Every program will take up a total of 11 modules. Each module will take an average of 3 hours. These modules will focus on topics such as communications, nutrition, quality of life, dementia care, safety, teamwork, aging and illness, and many more.
Once you become a level II by completing its training and other requirements, you can still further climb up the health care career ladder once your working hours have reached one year of continuous service without any records such as abuse, neglect, or theft. To learn more about how to become a CAN III, you can email Dicki Kirtley, which is the Director of the NAR, Health Resources Development Services at VickiK@health.ok.gov.
This city can be located in the southeastern part of the state. It is the county seat of Choctaw County. You can find this city bordering the state of Texas. As of the last census that was taken there, their total population had reached up to a total of 5,395 people. The have a population density of 980.9/sq mile. The total area of the city is estimated to be around 5.5 sq miles, where all of it is land.
There are many health care centers that are located in the city. Examples of the health care providers there include Take Care Clinic at select Walgreens, Rowland Wade, Healthcare Center, Country Style Health Care, Gentiva Health Services, Irvin Medical Clinic, Oklahoma Healthcare Solutions, Family Medical Clinic, Healthcare Innovations Private Service Inc., Choctaw Nation Health Clinic HUGO, Mental Health Clinic, Providence of Oklahoma, Paris Chiropractic Center, and many more. photo attribution: ufv