Listed on this page are all the nurse aide programs found in Hopkinsville, Kentucky that are currently accepting students for training. To get more information regarding tuition, schedule of classes, or how to enroll, please call the number provided below each training facility to speak with a representative.
Hopkinsville Community College
720 North Drive, P.O. Box 2100
Hopkinsville, KY 42241-2100
(207) 707-3700 or (866) 534-2224
Certified nursing assistants are better known in Kentucky as a state registered nurse aides or SRNAs. This worker is a person who, for payment, provides nursing care or nursing-related care services to residents or patients who are in different healthcare facilities. An SRNA is not a licensed health care provider; but a person who has completed an approved training program and has passed the competency examination to get into the Registry.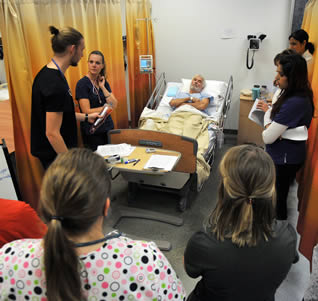 CNA training programs can be found offered by various institutions and schools, such as hospitals, nursing homes, community colleges, vocational and technical schools, government organizations, and private training institutions. Most of them offer 75 hours of theoretical course work and 16 hours of practical training while under the supervision of a registered nurse. Depending on the program you choose, it can take you around 3-4 months to complete your training.
Once you complete your training, you may now apply for the competency exam. The exam is a written test and a manual skills demonstration. Candidates have 2 hours to answer 75 multiple-choice questions for the written test and 25 minutes to perform 5 randomly selected nursing procedures in front of a CNA evaluator. Candidates only have up to one year from the completion of their training to get certified.
In order to get into the Nurse Aide Registry, candidates are required to pass both tests. The exam results are released within 30 days after taking the exam. Since the registry no longer sends out SRNA cards, you will only be notified of your SRNA number and when your certification will expire.
Nursing assistant certifications are only valid for 2 years. Their expiration falls on the last day of the month that they were issued. To renew your certification, you'll need to work as a paid nursing assistant for at least 8 hours. No nursing assistant is allowed to continue working with an expired certification. An expired certification can only be renewed by retaking the competency exam.
Another way of getting into the NAR is by Endorsement. Reciprocity lets a certified nursing assistant from another state to transfer and work in Kentucky by immediately gaining entry into the NAR, once his endorsement is approved. For the state to recognize you as an SRNA, you need to submit the following:
•     Full Name;
•    Contact Number;
•    Mailing Address;
•    Date of Birth;
•    Social Security Number
•    State Transferring From;
•    Certification/Registration Number;
•    Copies of your SS card, driver's license, and state nurse aide certificate
Send these to the NAR at:
Kentucky Nurse Aide Registry
312 Whittington Pkwy, Ste 300-A
Louisville, KY 40222-5172
Or Fax to:
(502) 654-3938 or (502) 429-3336
As of the 2010 census the city of Hopkinsville had population of 31,577 people. Two of the largest employers currently are the Jennie Stuart Medical Center, which employs around 850, and the Western State Hospital which has 776 employees. photo attribution: ufv