The training in Hopewell, Virginia to work as a nursing assistant that you can enroll in is shared on this web page. For more information about signing up for medical instruction in the city of Hopewell, please call the number for the school provided below.
Riverview on the Appomattox
201 Epps Street
Hopewell, Virginia 23860
(804) 541-6402
The goal of the Nursing Home Reform Act is to provide better quality care to patients in different health care settings from the different health care providers. To help achieve this goal, all aspiring nursing aide candidates must now undergo proper training and take the certification exam.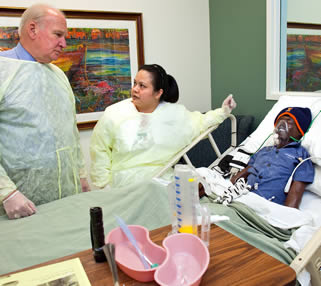 The certification exam in Virginia is conducted by NACES with the help of Pearson VUE. It consists of a 70 item knowledge test and a random practical skill test. The knowledge test can be taken as either a written or oral exam. If a candidate is able to pass all the tests, then he or she will be granted a CNA certification.
You can apply for the certification exam if you meet any of the following conditions:
–    Pass a state-approved 75-hour program
–    Achieve at least 40 hours of providing nursing services as a nursing student while enrolled in a nursing school.
–    Graduate from a nursing school within the last 2 years.
–    Have a Virginia-issued nurse aide certification that has not expired for more than one year.
You can download a copy of the application forms from this link:
http://www.asisvcs.com/publications/pdf/075301.pdf. Be sure to submit all requirements, especially the payment of $94 for the test fee. Incomplete applications will not be processed by the NACES. Your application must be submitted at least 12 business days before your preferred scheduled date.
If you become unavailable on your examination day, you are entitled to one free rescheduling. Rescheduling is free of change so long as you notify NACES at least 5 business days before your exam date. Please be reminded that all payments are permanent and are non-refundable.
The examination results are released on the dame day if there are no technical problems. The names of those who will pass will be forwarded by Pearson VUE to the state's Board of Nursing. You can then expect your CNA certificate to arrive at your mailing address within a week or two.
Initial certifications in Virginia are only valid for one year. CNAs must meet the required number of working hours to qualify for renewal. Once a holder is able to renew his certification, his new certificate will be valid for 2 years.
This is an independent city that is in the Commonwealth of Virginia. You can find this city in the Tri-Cities area of the Richmond-Petersburg region. It is included in the Richmond Metropolitan Statistical Area. According to the census of 2010, their total population was around 22,591 people. It has a total area of about 10.8 sq miles, and has a population density of 2,182.3/sq mile.
Health care providers, whose services you can avail, within the city include Right at Home, Hopewell Health Care Center, Family Health Clinic, Twin Rivers Medical Clinic, Hopewell Dialysis Center, John Randolph Medical Center, Quick Care Centers LLC, and Durrani Awk. photo attribution: codnewsroom