The certified nurse Aide classes in Hebron, Nebraska that are open for enrollment are all listed here. When you are accepted in a program you'll get to practice using the skills of the job and get test preparation knowledge to help pass the state license examination. Call the school for further qualification and sign-up details.
Southeast Community College -Blue Valley Lutheran Nursing Home
220 Park Ave.,
Hebron, NE 68370
(402) 768-3900
http://www.bvlh.org/
If you wish to work in a health care facility as a nursing aide, then you must have your license. You can get your license if your name is in the state registry. It will only be entered in the registry if you have passed a training program and taken the license examinations. The CNA course that you enroll in must be Nebraska state-approved and provide at least 75 hours of instruction. The certification exam is two parts and they are a competency  skills portion and a written comprehensive test.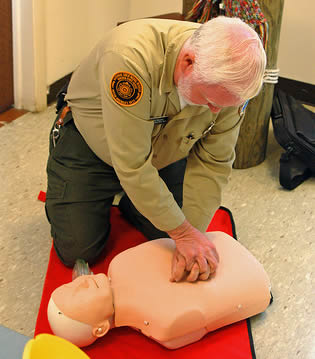 Like many states a nursing aide's position on the Registry is not permanent. There are a few things that must be done in order to maintain an active status on the Registry. To remain eligible for renewal, you must have worked for at least 8 hours as a paid nursing aide within the past 24 consecutive months. The facility that you worked in must be an approved Medicare/Medicaid nursing facility. The state does not require any inservice or continuing education in order to maintain an active status on the Registry. The 12 hours of  inservice is a requirement for licensed nursing facility to provide to the nursing aides. It is only a  facility requirement and not a nursing aide requirement.
If you were not able to renew your license, it will be considered as lapsed. If you were able to go on duty but was not reported to the Registry, then you must submit an Employment Verification Form. It is the statement from your employer that verifies your work that you did. For more information, you can view this site: http://dhhs.ne.gov/publichealth/Pages/crl_nursing_na_na.aspx#Maintaining.
The city of Hebron is the county seat of Thayer County. This is the city where you can find the world's largest porch swing. According to the last census taken there, their total population was estimated to be 1,579. They have a total area of approximately 1.4 sq miles, where all of it is land. The population density of the city is estimated to be 1,118.5/sq mile.
Health care centers and facilities that are found in the city area include Take Care Clinic at select Walgreens, Blue Valley Behavioral Health -Jcaho Accredited, Heartland Home Health-Rehabilitation Services, Eye Surgical Associates, Thayer County Health Services, and many more. photo attribution: vastateparksstaff