The different nursing assistant training courses found in Hamilton, Montana are shown to you here. These courses are regulated and approved by the Montana Department of Public Health and Human Services and will qualify you for the examination for certification once you finish.  If you have any questions regarding the programs, please call the institution phone number below.
Discovery Care Center
601 North 10th Street,
Hamilton, MT 59840
(406) 363-2273
http://www.discoverycare.com/
Becoming a nursing aide is one of the best ways for you to get started in health care. There is an increasing demand for the profession and it is believed that this demand will continue to increase for the next coming years.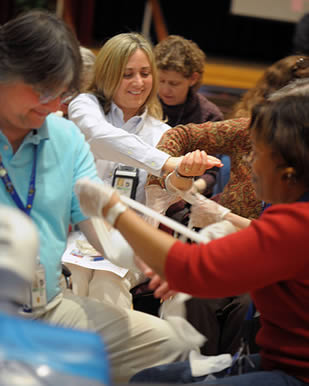 To get started in the state of Montana you need to enroll in a state-approved CNA training program and comply with the state's other requirements. The training program only lasts for a few weeks and costs around five hundred dollars. You will be able to finish it in a few weeks and if you pass the state competency exam, you would immediately be entered in the state's nurse aide registry and be eligible for work. You need to pass the state and federal criminal background check first before your certification can be released.
If you feel that you do not want to work as a nurse aide, then you may still get some work as a NA instructor. When you apply, you will need to submit to the Registry the completed application form. You can download a copy at http://www.dphhs.mt.gov/cna/CNAInstructorApplication.pdf.
To be qualified as an instructor, you must have experience or have taken a course in teaching adults or supervising aides. Program coordinators and clinical instructors must have at least 2 years of experience as a nurse, where at least one of those years were spent in a long term care facility. When you apply, you will need to indicate whether you are applying to become a clinical instructor, program coordinator, or a supplemental instructor.
Hamilton is the county seat of Ravalli County. It was founded by Marcus Daly, who was known as the copper king during his time. The name of the city however, was taken from J.W. Hamilton. According to the census of 2010, their total population had reached up to a total of 4,348 people. They have a population density of 1,603.6/sq mile. The total area of the city is estimated to be around 2.3 sq miles, where all of it is land.
Examples of health care providers that are willing to serve you anytime include Bitterroot Clinic, Marcus Daly Surgery Center, Hamilton General Surgery, First Choice Medical Clinic Hamilton, Physicians Clinic, Convenient Care Clinic, Bitterroot General & Vascular Surgery, Hamilton Obstetrics & Gynecology, Convenient Care, and Sapphire Community Health Inc. photo attribution: nasa_goddard