Centers that offer certified nurse aide programs in Grundy, Virginia are shown on this page. Course will provide theory, lab, and skills instruction. To get the recent details about signing-up, please speak to a course representative.
Buchanan County Technology and Career Center
Route 5 Box 110
Grundy, VA 24614
(276) 935-4541
So you want to start a career in the field of health, but have no idea on how to do it? Well, you should start to think about becoming a nurse aide. Training to be a certified nurse aide, or CNA for short, is currently one of the best ways to jump-start a career in the field. You can become a nurse aide and start working as one in a matter of a few months. The training and experiences that you'll get as a nurse aide can also be used as a great stepping stone if you wish to aim for a higher degree.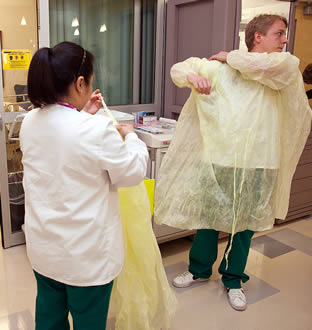 How to become a CNA
You cannot work in Virginia as a nurse aide if you do not have a nurse aide certification. You can only get a certification by either applying for endorsement or by passing the National Nurse Aide Assessment Program exam or NNAAP exam. Unfortunately, only persons who are already certified as nurse aides in other states are the only ones who can apply for endorsement.
How to take the NNAAP exam
Before you can take the NNAAP exam, you must apply for it. All student nurse aide applicants are required to successfully complete a 75-hour CNA program that is approved by the Board of Nursing. You can find these programs offered by different health care institutions and schools like hospitals, nursing homes, assisted living centers, community colleges, vocational and technical schools, and government organizations.
CNA training
Like any other program that is offered in other states, nurse aide training hours in Virginia are divided into lectures and supervised clinical practice. Students are handled by a qualified clinical instructor while in the clinical area. They are not allowed to perform any procedure or skills that have not yet been taught in the classroom.
The classroom and clinical training are taught concurrently, but before the students are allowed to handle any patient, they must first spend a few hours learning about the following concepts:
–    Infection control
–    Communication and Interpersonal Skills
–    Safety Precautions
–    Emergency care
–    Respecting the Patient's rights
–    Promoting the Patient's Independence
The National Nurse Aide Assessment Program Examination
This exam is divided into two parts – a multiple-choice knowledge test and a clinical skills exam. Candidates will have the option to take the knowledge test as either a written or oral examination. There is no additional fee if you choose the oral exam. The payment of $94 for the testing fee must be submitted along with the application forms.
In case you fail a test, you can immediately reapply and reschedule for a new test. There is no limit to how many times you can retake the exam. The state only requires that you must pass both tests within 2 years from the first time that you took it.
This town is the county seat of Buchanan County. According to the latest census there, their total population had reached up to a total of 1,105. Grundy has a total area of approximately 5 sq miles, where all of it is land. Its population density is estimated to be 221/sq mile.
Examples of health care centers and providers that you can find serving the area include G & G Treatment Center, DDC- DNA Diagnostics Center, Nurse Advantage, Rite Aid, Medical Park Pharmacy, Buchanan General Hospital Nurses Stations, Special Care Hospice & Home Health, Healing Hands Home Health, and many more. photo attribution: codnewsroom