The health care center nurse aide training programs found in Greensburg, Indiana listed here contains all the state authorized courses that are currently offering enrollment to the public. To find out more, please contact the program phone number listed here.
Heritage House of Greensburg
410 Park Road,
Greensburg, IN 47240
(812) 663-7543
http://www.heritagehousein.com/
There are several requirements to become a nursing assistant. The first step in becoming one is to enroll in a state-certified nursing assistant program. These programs will train and educate you on how to properly take care of the patients. You can find that these programs are being offered by several educational institutions such as colleges, nursing homes, and community training centers. As a student, you will be spending your hours in lectures, skills training, and clinical duties. The state required that these programs must offer their students a total of 105 hours of training, which would include no less than 75 hours allotted to clinical duties. When you are in the clinical area, you will be placed under the care of a registered nurse or another qualified member of the healthcare team. Most programs will take you more than 2 months to finish. This will depend of course on the schedules of your classes and duties.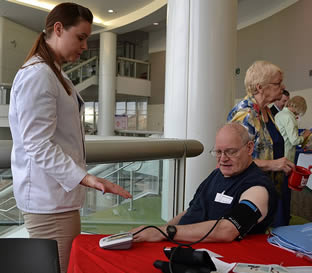 The next step is to apply for the license exams. You have to send in your application forms, which you can request from your training center, to the state's board. Taking on the license exams is an important step since you will not be allowed to practice if your name is not entered in the state's Nurse Aide Registry. You can call Ivy Tech Community College to setup a time to take the exams by contacting them at 317-917-5948. If you need any specific questions answered about current requirements you should call the Indiana State Department of Health at (317) 233-1325.
Greensburg is the county seat of Decatur County. This city is also known as Tree City; because of the large tree that grown at the top of the Courthouse Tower. According to the census of 2010, their total population was around 11,492 people. It has population density of 2,142/sq mile. Its total area is estimated to be around 9.32 sq miles, where all of it is land. Major roads that you can access to get to this city include Interstate 74, U.S. Highway 421 and State Road 3.
Health care providers whose services that you can avail in the city include Centerstone, Greensburg Medical Group, Medical Clinic of Greensburg, Children's Health Care, Southern Indiana Foot & Ankle Center, Nna Kidney Dialysis Center, DaVita Dialysis Center, Decatur County Free Health Clinic, Harcourt & Associates Counseling Services, and Tree City Medical Partners. photo attribution: codnewsroom