Those who are interested in enrolling in nurse aide instruction in Grandview, Washington, can find the state authorized classes featured on this page. Courses cover a wide range of medical subjects, offer lab experience, and physical skills training to teach the proper care of patients.
Grandview Health Care Center
912 Hillcrest Road,
Grandview, WA 98930
(509) 882-1200
With the increasing number of elderly in the population, there is also an increase in the demand for healthcare providers, especially for nursing aides. Nursing aides are entry-level professionals who help nurses provide nursing care to patients who are in different healthcare settings.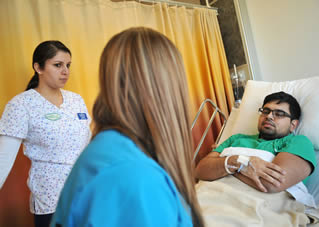 Enrolling in a state-approved training program is the first step in becoming a nursing aide. These programs have curriculum that was designed to meet the patients' individual needs. These include how assist them with their daily activities such bathing, toileting, dressing, eating, ambulating and other common activities. You can find suitable programs offered by various institutions and schools. These programs are constantly monitored by the state to ensure that students receive proper training.
Approved nursing aide programs consist of at least 85 hours of lectures and practical training. Both theory and practical training are taught at the same time. Completing an approved program is necessary to proceed to the next step which is taking the certification exam. Nursing students/graduates, medics and military corpsmen, and other trained healthcare personnel may also apply for the certification exam.
The certification exam is the final challenge that one must take before becoming a certified nursing aide. According to the law, only certified nursing aides are allowed to work in a nursing facility in Washington. This exam is divided into a multiple-choice written/oral test and a skills evaluation exam. Both parts must be passed to get into the Nurse Aide Registry and apply for the CNA Certification from the DOH afterwards.
Once your name is on the Registry you'll have to maintain your record. Please inform the NAR if you ever change name or address. Failing to inform the Registry may threaten your status on the Registry. To make things easier, you can go online (http://www.doh.wa.gov/LicensesPermitsandCertificates/ProfessionsNewReneworUpdate/ChangeyourContactorAddressInformation.aspx) and follow the instructions provided. Updating your information on the NAR is free of charges.
Your CNA certification is only valid for one year. You must renew your certification every year before your birthday to keep your eligibility to work in a state-approved healthcare facility active. You must prove that you were able to work for at least 8 hours as a paid nursing aide to qualify for renewal. You can renew your certification by following this link: http://www.doh.wa.gov/LicensesPermitsandCertificates/ProfessionsNewReneworUpdate/LicenseRenewals.aspx
This city is a part of Yakima County. it was named back in 1906 because of its view of both Mount Rainier and Mount Adams. According to the latest census there, their total population was around 8,377 residents. It has a total area of 5.4 sq miles, where all of it is land. Its population density is estimated to be 1,552.3/sq mile. A major road that you can access to get to the city is the Interstate 82.
Health care centers that you can find serving the city include Take Care Clinic at select Walgreens, Yakima Valley Farm Workers Clinic, Mountain View Women's Health Center, Grandview Medical Clinic, and many more. photo attribution: ufv