One can locate the schools that have been approved for conducting nursing assistant classes in Goose Creek, South Carolina below. These classes are currently open for enrollment as of the writing of this page. For more details about signing-up for a program, please call the number provided for you below.
Goose Creek High School
1137 Red Bank Road
Goose Creek, SC  29445
843-553-5300
Proper education and training is important in becoming a nurse aide. The CNA programs in South Carolina consist of a total of 100 hours, with at least 40 hours of clinical practice. Students will be taught the concepts that were required by the OBRA of '87. These concepts include infection control, safety and emergency procedures, mental health, personal and basic care, therapeutic communication techniques, patients' rights and independence, and many more.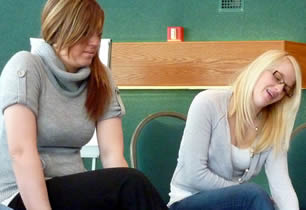 These training programs are offered by different training institutions and each has its own set of requirements to be accepted. There are however some requirements that are common to all, such as:
•    Minimum age requirement of 18 years old
•    Must possess a high school diploma or a GED
•    Must have complete immunization and a negative TB test
•    Pass the national criminal background check
•    Be physically healthy and mentally stable
Many of the programs in SC take 4 to 8 months to complete, depending on which program you enroll in. By completing a program that is approved by the Department of Health and Human Services, you will be able to apply for the nurse aide evaluation exam. Individuals who completed their training in another state may also apply for the exam, provided that their training meets the standards of the DHHS. To make sure, please contact DHHS at (803) 898-2587.
The evaluation exam in South Carolina is conducted, scored, and released by Pearson VUE. This testing company has been working with the Nurse Aide Competency Evaluation Service in the administration of the exam. This exam consists of a written and a random skills demonstration. If you pass all the tests, you will become a certified nurse aide. An oral exam may also be taken in conjunction with the written test for those who may have trouble in reading English.
Your name on the Nurse Aide Registry, as well as your CNA certification, will remain valid for 24 months. To maintain your listing, you will need to renew your certification by completing the renewal forms and paying the fee of $28. To be eligible for renewal, you must have worked for at least 8 hours within the last 24 consecutive months. If you are working for a Medicaid nursing facility, your renewal will be free.
This city situated in Berkeley County. It was established back in 1961 and was named after the "Goose Creek men", who were a group of colonists.  It is a part of the Charleston-North Charleston-Summerville metropolitan area and the Charleston-North Charleston Urbanized Area. According to the census of 2010, their total population was around 35,938 people. It has a total area of about 32.5 sq miles and a population density of 921.6/sq mile.
Health care centers that you can find in the area include DDC- DNA Diagnostics Center, G & G Treatment Center, Goose Creek Family Practice, St James Family Medicine, Rite Aid, Davidson Sandy M LISW-CP CMC, Worksite Partners, Active Nursing Services of Charleston, and many more. photo attribution: create-learning