We've listed all the available nursing assistant training found in Georgetown, Kentucky, which are open for applicants at this time. If you find yourself interested in any of the classes offered, feel free to call the number provided below each facility to speak with an adviser about your school options.
Georgetown Nurse Aide Training
131 Valdez Cir,
Georgetown, KY 40324
(502) 867-7283
Georgetown Community Hospital
1140, Lexington Road,
Georgetown, KY 40324
(502) 868-1100
Website: www.georgetowncommunityhospital.com/
Georgetown Health Care Center
102 Pocahontas Trail
Georgetown, KY 40324
(502) 863-3696
Fax: (502) 868-5254
Website: www.shcofgeorgetown.com.
Enrolling in a state-certified training program is one of the first requirements that you need to meet in becoming a certified nurse aide. It is important that you learn how to meet the needs of each patient to ensure that they will only receive quality care from you and all other newly certified nurse aides.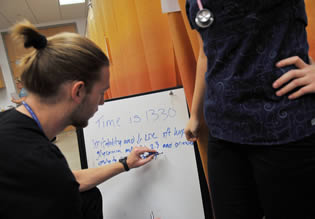 Requirements for Enrollment:
–    Age: must be at least 18 years old.
–    English: must be able to speak and understand Basic English
–    Education: some training facilities will only accept candidates who have a high school diploma or a GED.
–    Health: must be physically and mentally healthy to take care of patients. Candidates must also be free of any communicable diseases like TB.
Criminal Background Checks
Criminal background checks are mandatory for all candidates. Although some training facilities might accept students who haven't undergone the checks yet; a candidate must still undergo and pass the checks in order to get into the Nurse Aide Registry and get certified.  A person who has records of theft, abuse or sale or illegal drugs, physical abuse, neglect, or any sexual crime.
The National Nurse Aide Assessment Program Exam
This exam is divided into two parts, which consists of a written exam and a skills evaluation exam. Taking this exam is the final step become you can become a certified nurse aide. In order to get listed on the Registry, you will have to pass both tests within one year after completing your training. If you fail, you will have another two (2) attempts to retake and pass the exam(s) that you failed. If you fail to pass within the one year deadline, or within the number of given attempts, you will be required to undergo retraining.
The Nurse Aide Registry
Names on the Registry are only valid for up to two years. A CNA must renew his/her certification before his/her certification expires. The Board of Nursing will send out a notification to the holder's address a few weeks before the certification's expiration. To qualify for renewal, you need to work as a paid nurse aide for at least 8 hours. No CNA is allowed to continue working with an expired certification. An expired certification can be reactivated by retaking the NNAAP Exam.
Reciprocity into the State of Kentucky
If you have an active status in another state and want to work in Kentucky, you can apply for reciprocity by submitting the following:
–    Full Name
–    Contact Number
–    Mailing Address
–    Social Security Number
–    Birthday Date
–    State you are Transferring From
–    Certification/Registration Number
–    Copies of your Social Security Card, Driver's License, and State Certificate
Send your application to:
Kentucky Nurse Aide Registry
312 Whittington Pkwy, Ste 300-A
Louisville, KY 40222-5172
Or Fax to: (502) 654-3938 or (502) 429-3336
Georgetown is a 4th-class city and a county seat of Scott Country. Founded in 1788, the city was originally named as Lebanon. As of the 2012 census, their population had grown to 30,271 people in a total area of 15.85 square miles. If you're thinking of starting a career in this city, you should think about working at the Georgetown Community Hospital, which is the city's 4th biggest employer.
Don't want to work there? Well, there are plenty of other health care facilities to choose from, such as the Signature Health Care, Georgetown Women's Health Care, Amedisys Home Health Care, Pine Meadows Health, Care, and many more. photo attribution: ufv