Those who want to enroll in CNA classes in Gaffney, South Carolina can find the eligible programs listed here. Once the entry requirements are met, students will receive skills and theory based training on how to perform common health care tasks. Call the school to learn more about signing-up.
Spartanburg Community College – Cherokee Campus
523 Chesnee Hwy
Gaffney, SC
(864) 206-2700
If you are planning on becoming a nurse aide in South Carolina, you will need to get the proper education and training. Training programs in the state take 100 hours to complete. Their training curriculum is divided into lectures and on-the-job training in an actual clinical setting. Before you enroll in a program, you must make sure that the program is approved by the state's Department of Health and Human Services.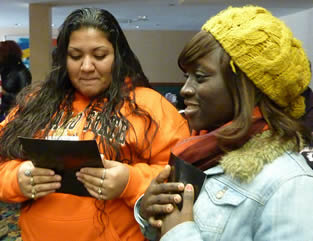 By completing a state-approved program, you will be able to apply for the National Nurse Aide Assessment Program or the NNAAP exam. By passing this exam, you will become a certified nurse aide and will be allowed to work in a nursing facility as one. The SCDHHS has contracted Pearson VUE to conduct the exam with the help of the NACES.
If you already received nursing aide training from another state but have not yet taken the NNAAP exam, you can apply for the exam in South Carolina. If you wish to apply, you will need to submit a certificate or diploma of program completion along with the application forms. You can download a copy of the forms by going to http://www.asisvcs.com/publications/pdf/074101.pdf.
If you pass the NNAAP exams, your name will be listed on the SCNAR. Pearson VUE will send your CNA card to your mailing address within 10 days after passing. If you wish to check your record on the Registry, you may go online at https://www.asisvcs.com/services/registry/search_generic.asp?CPCat=0741NURSE. You can search your record by either entering your full name or your SS/Certification number.
Only nurse aides with current certifications are allowed to work in a nursing facility. To keep your current, you will need to work for 8 hours providing, for compensation, nursing care while under the supervision of a licensed nurse.
To avoid any problems with your renewal, it is very important that you keep your record up to date. Please inform the Registry if you changed your name or address. A notice for renewal is sent out by Pearson VUE at least 1 month before your certification expires. Even if you do not receive this notice, it is still your responsibility to renew your certification on time.
This city is the county seat of Cherokee County. It is a part of the Gaffney, South Carolina, Micropolitan Statistical Area. The city was named after Michael A. Gaffney. According to the census of 2010, their total population at that time was around 12,414 people. It has a total area of approximately 7.9 sq miles, where all of it is land. Its population density is about 1,571.4/sq mile. Major roads that are serving the city include Interstate 85 and Interstate 26.
Examples of health care centers that you can find in the area include DDC- DNA Diagnostics Center, Carroll, James M DMD PA, Turnage Wes, Carroll, James M Dmd,Pa, Gaffney Family Physician, Carolina Vision Associates, Sunbelt Medical Resources LLC, Buford Street Home Medical, Cherokee Internal Medicine, Barrett Ronald W DMD, Narins Joseph P MD, and many more. photo attribution: create-learning