Enrolling in a certified nurse aide training program is a requirement to become licensed to work in this profession. We've listed on this page all the state-approved training programs that can be found in Ft. Washakie, Wyoming as of the moment. You can learn more about each program by calling the program's contact number.
Name of Program and Physical Location:
Fort Washakie
4 North Fork Road,
Ft. Washakie, WY
Sponsoring Organization and Contact Information:
Fremont County BOCES
320 West Main Street,
3rd Floor
Riverton, WY 82501
Phone: (307) 856-2028
Fax: (307) 856-4058
Email: kbensonboces@gmail.com
Once you're accepted into a program, you'll be spending most of your time in the classrooms, laboratories, and clinical area. The state requires all programs last for at least 105 hours. The hours must be divided into a minimum of 75 hours of theoretical coursework and 16 hours of supervised clinical practice. The theory and hands-on training are done simultaneously; however, students must spend 16 hours learning the following concepts before they get to take care of the patients: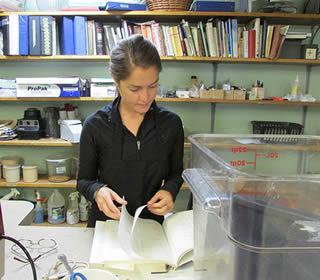 –    Infection control
–    Mental health
–    Medical terminologies
–    Communication and Interpersonal skills
–    Respecting patients' rights
–    Promoting Independence
–    Safety procedures
–    Emergency Care
–    Basic Nursing care
As soon as you are through with your training, you may submit your application for the state's Nurse Aide Registry (https://nursing-online.state.wy.us/Resources/CNA%20Exam%20App%2010-25-2013.pdf) along with the corresponding fee of $60. The Registry will then issue a temporary certificate that will allow you to work as a nurse aide for up to 4 months or 120 days.
In order to get a permanent certification and placement on the Nurse Aide Registry, you'll have to take and pass the National Nurse Aide Assessment Program Exam or NNAAP exam. You will have one year after completing your training, as well as five attempts, to pass both the 2-hour knowledge test and 30 minute skill evaluation exam.
The NNAAP exams are conducted by the American Red Cross with the Help of Pearson VUE. All application requirements must be sent to the ARC, including the payment of $98 for the testing fee. In addition to passing this exam, all aspiring candidates must also undergo the criminal background checks. Background check results must be sent to the NAR as soon as possible. It usually takes around 60 days, after submitting the request, to get the results back.
Exam applicants who pass both tests are placed on the NAR. The results are normally released on the same date if there are no technical problems. If you wish to check your status on the Wyoming NAR, just go to: https://cnaregistry.health.wyo.gov/.
Certified nurse aides are required to renew their certification every even year to continue their eligibility to work. Unlike other states, all CNA certifications expire on the 31st of December of every even year. Notices are sent out by the registry at least 3 months before the expiration date. Certification holders can start the renewal process as early as October 1st. Please keep your record in the registry up-to-date to ensure that you'll receive important notices.
Part of the requirements for renewal is to work as a paid employee for at least 16 hours and complete 24 hours of in-service training from a certified nursing facility. If you're still looking for a place to work, then why not try working in Fort Washakie.
Fort Washakie is a census-designated place that's located in Fremont County, Wyoming. You can find it just within the Wind River Indian Reservation and along the U.S. Route 287. Named after Chief Washakie back in 1878, this CDP has a total land area of 20.9 square miles. According to the latest census (2010) the total population of the CDP was around 1,759. photo attribution: sterlingcollege