The current list of programs available to become a nurse aide in Friday Harbor, Washington can be seen here. Students will need to meet facility requirements, pass the required training, and complete the testing phase to receive certification and admission to the state registry.
Islands Convalescent Center
660 Spring Street,
Friday Harbor, WA 98250
(360) 378-2117
Skagit Valley College CNA Training at San Juan Center
221 Weber Way,
Friday Harbor, WA 98250
(360) 675-6656
Enrolling in a training program is the first step in becoming a nursing assistant. It is important that aspiring nursing assistants learn how to take care of the patients properly. We've listed on this page the different state-approved programs that are found in Friday Harbor. If you found one that's not on our list, just make sure that it's approved by the state's Department of Social and Health Services before you enroll.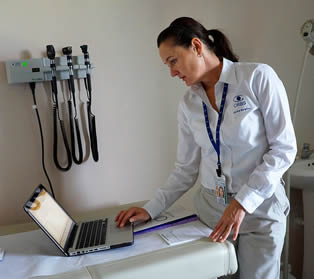 Approved programs comprise of 35 hours of theory and 50 hours of practical training while under the supervision of a registered nurse. Most programs however, offer more than the required 85 hours of training. Depending on the program you choose, it can take you 8 to 24 months to complete your training. You can find programs offered by hospitals, nursing homes, assisted living centers, community colleges, vocational schools, private training facilities, and government organizations.
General Requirements to be in a Nursing Assistant Program:
–    Age: must be at least 16 years old
–    Education: must at least know how to read and write. Some facilities only accept applicants who have a high school diploma or a GED certificate.
–    Criminal Background: must pass the federal and state criminal background checks
–    Health: Be physically and mentally capable to take care of the patients/clients; must also be free of any communicable ailments such as tuberculosis.
–    English: English competency is a must since most of the patients/clients will be speaking the language.
After you complete your training, your next step is to apply for the NNAAP Exam. This exam is divided into a multiple-choice knowledge test and a skills evaluation exam. Both tests must be passed to get into the Nurse Aide Registry. Your clinical instructor will provide you with the application forms as soon as you complete your training. You can also download the forms by going to www.doh.wa.gov or to www.pearsonvue.com.
The NNAAP exam is the final challenge that keeps you from becoming a full-fledged nursing assistant. This exam consists of a multiple-choice knowledge test and a skills evaluation exam. It is conducted with the help of Pearson VUE at approved Regional Testing Centers.  Only individuals who completed a proper training program may apply for the exam.
Registered nurses, licensed practical nurses, medics, nursing students/graduates, Out-of-State nursing assistants, and other individuals who were trained in health care may apply. Before they submit their applications for the NNAAP exam, they'll need to check if they qualify by submitting proof of their education and training to:
OBRA Nursing Assistant Registry
Aging and Disabilities Services Administration
PO Box 45600
(360) 725-2570
Fax: (360) 493-2581
You can also call the DOH Customer Services Center at (360) 236-4700 if you have any questions regarding the nursing assistant certification process.
This is a town that is a part of San Juan County. It is also the seat of government of the county. It is claimed that the town was founded back in 1845 by the Hudson's Bay Company. According to the census of 2010, their total population was around 2,162 people. It has a total area of approximately 1.4 sq miles, where almost all of it is land. Its population density is estimated to be 1,467.7/sq mile.
Health care facilities that you can find in the town include Friday Harbor Dentistry, San Juan Cty Health and Comm Service, Starr Barbara, San Juan Recovery, Eastsound Office, Dental Arts, Inter Island Medical Center, San Juans Vision Source, Allied Counseling Services, and Islands Convalescent Center. photo attribution: orbis_emea