The certified nurse aide programs being held in Farmington, Maine can be seen on this page. All of the classes shown here are approved for instruction by the registry and meet curriculum and hourly requirements. If you have any questions, please call to speak with a course adviser.
Maine School Administrative District # 9
108 Fairbanks Road,
Farmington, ME 04938
(207) 778-4307
www.mbrsd.org/
For you to be allowed to work as a nursing assistant in Maine, your name must be on the Nurse Aide Registry. It will only be entered there if you were able to comply with the state's requirements such as passing the license exams. Before you are allowed to take the exams, you have to become eligible to apply by being able to graduate from a state-approved training course.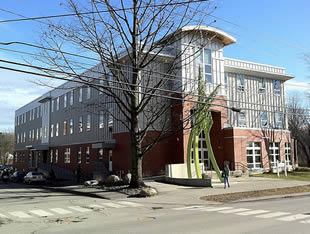 The training program must be approved by the ME Nurse Aide Registry and offer the proper amount of hourly instruction and curriculum mandated by the state. In addition to qualify for a course you must have graduated the 9th grade, be at least 16 years old, and pass a criminal background check. Currently the state requires course provide a total of 180 hours of training that includes 20 hours of lab work, 70 hours of clinical practice and 90 hours of health care theory and coursework. After the program, you can apply for the state exams for an opportunity to get your license.
The license exams for Maine are composed of two parts, a written and a skills evaluation. If you want to get your name on the Registry, you will need to pass both parts. Only those names that are on the Registry will be allowed to work for more than 4 months as a CNA. Nurses from other states are also welcome to directly apply for the exams if they wish to become a nursing assistant. Since the training is very much the same, they may apply directly without the need to undergo any retraining. This rule also applies to nurses from other countries.
This city is the county seat of Franklin County. It is also known and called by its locals as F-Town, The Farm, or Farmtown. According to the census of 2010, their total population had reached up to 7,760 people. They have a population density of 132.8 people per square mile. The total area of this city is approximately 56.0 sq miles, where only 0.2 square miles of it is water. Major roads that are can be accessed from this city ar U.S. Route 2, and State Routes 4, 27, 43, 133, and 149.
Examples of health care centers and providers that can be found serving this city are Take Care Clinic at select Walgreens, Notifymd Inc., Tri-County Health Services – Reproductive Health & Family Planning, Franklin Memorial Hospital, Tri County Mental Health Services, Franklin Health Dermatology, Pine Tree Family Medicine, Franklin Health Farmington Family Practice, and many more. photo attribution: wfryer